SXU's Beta Gamma Sigma Recognized as Honors Chapter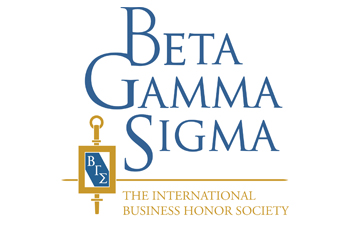 Saint Xavier University's (SXU) Beta Gamma Sigma Chapter has earned recognition as an Honors Chapter by Beta Gamma Sigma, the international business honor society for AACSB-accredited schools, which are the top 5% of business school programs around the world. Qualifying for the recognition is indicative of a campus where academic excellence is highly valued.
Beta Gamma Sigma's origin dates back to the earliest years of the 20th century during a time when business students were largely excluded from consideration for societies recognizing academic excellence. Nearly 105 years later, Beta Gamma Sigma is the largest organization in the world, honoring business students and graduates internationally, with members residing in 160 countries.
In addition to recognizing academic excellence, Beta Gamma Sigma also provides career opportunities to its members. They offer free webinar series that bring together thought leaders from top businesses to share their advice, insight and knowledge to members as they look to improve their skills. Beta Gamma Sigma members also receive education and professional benefits, such as discounts for test prep courses.
To qualify for the recognition, SXU's Beta Gamma Sigma Chapter had to submit an annual report that detailed their student activities, events and more. The chapter, which is very active, provides quality services to students.
"It is quite an honor to receive this recognition. Beta Gamma Sigma requires its members to be top of their classes – top 10% for undergraduates and top 20% for graduates. It is in the same spirit that the Graham School of Management encourages academic excellence," said Song Wang, Ph.D., finance professor and chapter advisor.
"Being invited into Beta Gamma Sigma was the greatest honor and achievement of my scholastic career," added Sean Delegan, a business and finance major. "Dr. Wang was the first professor I connected with at SXU, and he mentioned to our class the opportunities associated with being a member and I was instantly intrigued. His profound guidance and friendship throughout my time at SXU is the reason I am a member of Beta Gamma Sigma today – I'm inspired to strive for excellence in business and life."
In the future, SXU's Beta Gamma Sigma Chapter plans to continue launching events for inducting and recognizing new members, hosting ceremonies and banquets, and encouraging conference and discussion participation.
---