/
/
/
SXU Biology Pre-Health Student Completes Research Project on mRNA Vaccines
SXU Biology Pre-Health Student Completes Research Project on mRNA Vaccines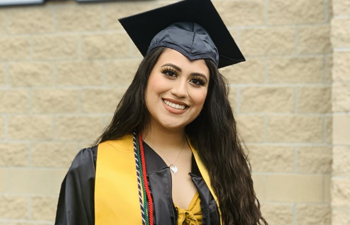 Saint Xavier University (SXU) biology pre-health student Erica Rojas's Research Expo and Honors Program Senior Symposium project, "mRNA Vaccines: Will the COVID-19 Pandemic Revolutionize Future Rapid Developments," is innovative, timely and contributes to the rapidly evolving body of knowledge and understanding of the novel mRNA vaccine platform.
When the U.S. declared a pandemic in 2020, Rojas knew she wanted to incorporate it into her research, and after Moderna and Pfizer-BioNTech's mRNA COVID-19 vaccines were approved for emergency use, she decided to focus on the revolutionary nature of mRNA technology. Her project focuses on mRNA vaccines and how they represent a promising alternative to traditional vaccine approaches due to their safety, efficacy and rapid production. She reviewed years of prior research on mRNA vaccines and analyzed the crucial role of mRNA technology in the COVID-19 pandemic. The project assesses the benefits and challenges of mRNA-based vaccines and suggests possible direction for future rapid development projects.
"Completing this project has benefited me in numerous ways and has been a very rewarding experience. I was able to fully immerse myself in a topic of interest and develop a project from scratch that I am truly passionate about. I was also able to challenge myself to synthesize the knowledge and skills gained across multiple academic disciplines and apply it to a research project. Along the way, I substantially improved my critical thinking skills and increased my capabilities to formulate and defend my position on a current issue," said Rojas.
Rojas chose to major in biology because of her interest in how the human body functions. Her interest grew over the years as she began to question certain illnesses her family members suffered from. When her grandfather was diagnosed with prostate cancer, she wanted to learn more about his condition and how to help, and during her research, she realized how fascinating it was to learn about other topics along the way. After years of watching her grandfather suffer from the disease and caring for him, she knew she wanted to work in the medical field and provide similar comfort and care to patients during times of need.
"My future goals as a doctor are to provide more diversity to the medical field and have a positive impact on patients by providing compassionate and unbiased care to improve their quality of life," said Rojas.
Rojas chose to study at Saint Xavier because of the small classroom sizes and ability to develop close relationships with faculty and peers. Her favorite thing about SXU is the diversity of the student body, but she also loves the high-impact practices in her science classes.
"I love Dr. [Bindhu] Alappat's style of teaching. I've taken her chemistry courses and she was my capstone project mentor. I can tell she cares deeply about her students succeeding. Dr. Alappat is someone I can always go to with my questions and concerns about anything, and she was one of the first individuals who really believed in me and encouraged me to pursue my dreams of becoming a doctor. With her help, I have been able to start studying for the MCAT and figuring out my plans for attending medical school. I don't think I would have made it this far or been as confident in my capabilities as I am today without her encouragement," said Rojas.
"I served as Erica's research project mentor, where she demonstrated the ability to work independently, following the scientific research methods with great creativity and enthusiasm. I am so glad to see her blossom into a well-rounded young woman, successful in every step she's taken so far. I hope it is just the beginning and she finds many opportunities and embraces the challenges that come along the way," said Alappat.
Rojas finds that the information she is learning in her courses is greatly preparing her for her next steps. Her minor in Spanish will allow her to better communicate to future Spanish-speaking patients and her participation in the Honors Program has molded her into a scholar and set her up for success in future endeavors.
Rojas serves as treasurer on the board of Tri-Beta, the national biological honor society, and is an active member of SXU's Pre-Medical Society and National Society of Collegiate Scholars. She has been a STEM peer mentor for two years and was the 2020 recipient of the EXPLORE STEM Star for the Estrellas de SXU Latinx Achievement Awards.
Rojas plans to begin studying for the MCAT and working on applying to medical school. She looks forward to taking care of patients and improving their health outcomes with compassionate care.
---