SXU Board of Trustees Extends President Joyner's Contract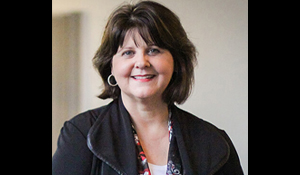 SXU Board of Trustees Extends President Joyner's Contract
The Saint Xavier University (SXU) Board of Trustees has unanimously agreed to a five-year contract extension for Laurie M. Joyner, Ph.D., SXU's 20th president, who has served the University since January 2017.
"President Joyner has demonstrated a deep commitment to our Mercy mission, academic excellence and student success," said Board Chair Patricia A. Morris '83, Ph.D. "President Joyner possesses the vision, leadership, intelligence, energy and courage to animate SXU's sacred mission of preparing students for personal fulfillment and meaningful careers."
During her time at SXU, President Joyner has exceeded expectations in positioning the University for a brighter future. Under her leadership, SXU is again a university on the rise, marked by the many accomplishments of its community, including:
integrating SXU's Catholic, Mercy mission intentionally in the deliberations of the Board and across the work of the institution;
enrolling three of the largest and most diverse classes in the University's 175-year history and improving first-to-second year retention while maintaining SXU's position as the most affordable Catholic university in the state;
launching strategic initiatives to create more than a dozen new academic programs, invest in its equity and inclusion agenda, expand athletics offerings and increase support for high-impact practices;
elevating the collective voices of faculty, staff and students by establishing University-wide planning, budgeting and effectiveness committees that offer robust avenues for community members to engage directly in the critical work of the University;
weathering the COVID-19 pandemic without layoffs or furloughs while continuing to make progress on faculty and staff compensation; and
moving from financial fragility to greater financial stability, positioning SXU to invest further in its accomplished community members and promising programs of distinction.
Trustees are encouraged by these impressive results and look forward to continuing the current trajectory which benefits the entire SXU community, especially students.
"I am humbled to serve Saint Xavier's remarkable learning community," said President Joyner. "I remain grateful for the opportunity to continue collaborating with and learning from our students, faculty, staff and the extended SXU community as we advance our Mercy tradition of excellence and service."
---