SXU Celebrates Asian Pacific American Heritage Month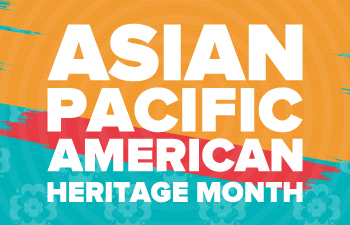 Throughout the month of May, Saint Xavier University (SXU) celebrates Asian Pacific American Heritage Month (APAHM), a time to honor the achievements of Asian Americans and Pacific Islanders and the significant contributions they have made to the sciences, arts, government, commerce and more. The Robert and Mary Rita Murphy Stump Library offers the community a beautiful display of books, films and performance art collected in recognition of APAHM. For thousands of years, the rich heritage of Asian Americans and Pacific Islanders has shaped the history of the United States.
As a broad term, "Asian Pacific" encompasses all of the Asian continent and the Pacific islands of Melanesia (New Guinea, New Caledonia, Vanuatu, Fiji and Solomon Islands), Micronesia (Marianas, Guam, Wake Island, Palau, Marshall Islands, Kiribati, Nauru and the Federated States of Micronesia) and Polynesia (New Zealand, Hawaiian Islands, Rotuma, Midway Islands, Samoa, American Samoa, Tonga, Tuvalu, Cook Islands, French Polynesia and Easter Island), as well as the Indian subcontinent and South Asia, including Bangladesh, India and Pakistan.
The month of May was chosen to commemorate Asian Americans and Pacific Islanders because of two important anniversaries: the arrival of the first Japanese immigrants to the United States on May 7, 1843; and the completion of the transcontinental railroad by Chinese laborers on May 10, 1869. From the more than 1 million immigrants who journeyed across the Pacific and arrived on Angel Island to the Chinese American laborers who risked their lives to link our coasts by rail, the determination of this vibrant community represents the best of our national character.
Embodying the soaring aspirations of the American spirit and marching forward with courage, grit and an abiding belief in American ideals, Asian Americans and Pacific Islanders have challenged our nation to be better. The May commemoration pays tribute to all those in the community who have worked for a brighter future for the next generation and all those who continue to do so daily.
As we celebrate this culturally-rich month, we also recognize the discrimination, violence and bigotry the Asian American and Pacific Islander (AAPI) community has faced. As a Mercy institution, Saint Xavier University stands in solidarity with the AAPI community and is committed to dismantling hate, violence and racism for a more just and equitable society. This month and beyond, all at SXU are invited to engage in social advocacy, educate one another, and be compassionate and empathetic in support of its diverse community. The SXU community can also peruse exhibits and collections from the Asian Pacific American national archives, check out a series of events and activities going on in Chicago, and join book discussions, art projects, meditation sessions and more with the Chicago Public Library.
Diversity strengthens our academic programs and educational environment by preparing students to live and work in a culturally-rich, global society. We are grateful for the many contributions made by Asian Americans and Pacific Islanders and are proud to celebrate Asian Pacific American Heritage Month now and every day!
---