SXU Celebrates Black History Month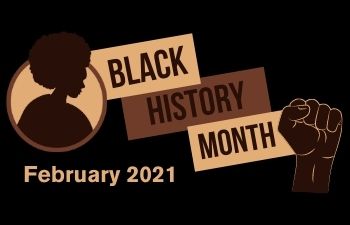 Join the Saint Xavier University (SXU) community as we celebrate Black History Month this February. Members of the community will host a number of events that celebrate the many beautiful, creative and innovative achievements and contributions made by African Americans and will honor the culture and inspire meaningful conversation.
This has been declared a year of action to build a culture that is anti-racist at SXU, and the events held during Black History Month will contribute to our goals as a community to focus on healing and actively working to fight for equality and justice. The events will open dialogue on how we can preserve and celebrate the remarkable accomplishments of our community all year long. All events are virtual and open to the public.
"I see Black History Month as an opportunity to educate the community about the African American culture. This month is not exclusive but inclusive, so all events are open to the public and we encourage everyone to come and learn something new," said Lisa Lyons, academic resources advisor.
"It is refreshing to be a member of a community that acknowledges the accomplishments that Americans of African descent have added to the American experience. It is important that we recognize the challenges of 2020 and commemorate all of the emotions we all are processing," said Tracy Crump, Ph.D., J.D., LL.M., professor of Criminal Justice and director of African American Studies. "It is equally important that we celebrate and attend the SXU Black History Month events to help us grow on our racial identity development journeys, to acknowledge the continued importance of diversity in our society, and to help us move to a more welcoming and inclusive community."
SXU encourages the entire community to join together to celebrate Black History Month and immerse themselves in the history, culture and scholarship of African Americans.
Black History Month Library Display
All month long, the Robert and Mary Rita Stump Library will display #OwnVoice works selected by librarians, faculty, staff and students, ranging from children's books and literature to scholarly monographs.
Thursday Food Specials – February 4, 11, 18 and 25
Each Thursday in February, the SXU Diner will offer a special food option in celebration of Black History Month. Check out the campus dining web pages for weekly lunch specials.
"Still, I Rise" – Wednesday, February 10 and Wednesday, February 24
The Saint Xavier University ILEA Initiative and the Center for Inclusive Excellence invite faculty and staff to participate in a professional development series focused on creating and cultivating a racially-inclusive campus environment.
From Elections to Accountability with Mariah Parker – Thursday, February 11
Join SpeakOut for a thought-provoking conversation with trailblazer Mariah Parker, an Athens-Clarke County commissioner who believes we need to ensure that local elected officials are held accountable to the communities that put them in office.
Fourth Annual Convening of Black Excellence – Thursday, February 11
Join fellow SXU students for an opportunity to network with successful Black professionals and pioneers in Chicagoland.
Revisiting the Past and Looking Toward the Future: How Society has Dealt with Diversity, Equity and Inclusion 1919-2021 – Wednesday, February 17
Join Dr. Tracy Crump for a talk that will consider how to build inclusive spaces in our society by exploring the root causes of social unrest in Chicago over the last century.
Stamped Book Discussion – Thursday, February 25
Join Dr. Tracy Crump for a discussion on how racism impacts our youth and undermines opportunity, equity and social justice.
Movie and Discussion with Residence Hall Association – Saturday, February 27
Join the Residence Hall Association (RHA) for a Black History Month movie to celebrate the contributions of Black people to the world, followed with a conversation about the movie and impacts on the SXU campus.
Seventh Annual African American Achievement Awards – Friday, March 5
Join the Saint Xavier community for the annual African American Achievement Awards, which recognize the contributions and achievements of African American students, faculty and staff at SXU.
For more information, contact Campus Life at 773-298-5114 or studentlifeFREESXU.
---