SXU Celebrates Disability Pride Month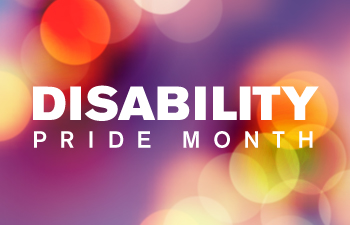 July is Disability Pride Month, and Saint Xavier University's (SXU) Center for Accessibility Resources is celebrating by working to empower and embrace the disability culture for faculty, staff, students and the greater community.
On July 26, 1990, President George H.W. Bush signed the Americans with Disabilities Act, which banned discrimination on the basis of disability in the areas of employment, public services, transformation and telecommunications. Though Disability Pride Month is not yet nationally recognized, the month highlights a critical time to listen to and amplify voices of people with disabilities and shine a spotlight on those who have been marginalized or discriminated against.
SXU's Center for Accessibility Resources is committed to working closely with staff and faculty in support of equal access, reasonable accommodations and academic assistance for students with documented disabilities. The center's director, Margaret Rose McDonnell, believes their central theme and mission is celebrating and recognizing disability identities with great pride.
"As the director of the Center for Accessibility Resources and an individual with a disability, I want to dispel and demystify the negativity that has been associated with the word 'disability.' Our office works hard to eliminate the stigma associated with various medical and health conditions to honor and celebrate their diverse abilities and achievements," said McDonnell.
Students are pleased with the center's staff and resources, with many feeling like they are really being heard and understood. The center's mission is also strongly aligned with Saint Xavier's Mercy mission and core values, and they are always striving to take part in new initiatives that place the core values of diversity, integrity, respect and hospitality at the forefront of their inclusive environment.
The center is also committed to educating and fostering greater awareness of those with disabilities in programs and events throughout each academic semester, including Via, the first-year student orientation, and within organizations and initiatives. They have presented at Faculty Development Day and in trainings for peer mentors, resident assistants and other student leadership positions on the importance of the integration of services to develop a more inclusive and diverse learning environment, ultimately leading to personal, professional and academic success for students.
To learn more, visit the Center for Accessibility Resources web page and check out the Chicago Public Library's Disability Pride Month collection.
---