SXU Celebrates Women's History Month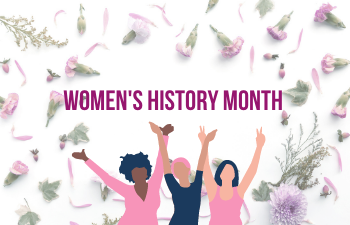 Saint Xavier University (SXU) proudly celebrates Women's History Month with its innovative, strong group of faculty and staff women, all of whom are true thought leaders who are integral to the Saint Xavier vision, mission and future. In 1831, Catherine McAuley set the Sisters of Mercy in motion in Ireland, and in 1846, under the guidance of Mother Frances Xavier Warde in Chicago, the Sisters of Mercy chartered the institution, initially founded as an academy for females.
This year, the women of Saint Xavier considered what it means to be a woman in their fields and reflected on the ways they continue to carry on the mission of the Sisters of Mercy to serve our students and community.
Molly Maley Gaik, Information Technology
"It excites me to be in a position to help improve someone else's position through leveraging technology. I don't think about the gender aspect as much anymore, but when I started over 30 years ago in IT, it was very much a 'man's world.' Very few women were professionals in IT, so to have been in this industry and watch it grow with women leaders coming on board, it feels more like home every day.
"To work in the service department of a service organization makes me feel a strong sense of mission and ties to the Sisters of Mercy. They set the bar high and the standards follow suit, so I feel a sense of pride daily to continue their work."
Corryne Irvin, Athletics
"I am honored to work as a woman in athletics. Sports build the characteristics in women necessary to be successful in whatever they choose to do. Being in a leadership position allows me opportunities to assist young women to reach their goals and dreams.
"The Sisters of Mercy believed in empowering young women by providing numerous opportunities. I strive to carry the torch they lit to the next generation of Saint Xavier women."
Julia Wiester, Ph.D., Chemistry
"To be a woman in science means to use our creativity and curiosity to discover new knowledge and contribute to the field in order to continue the work of those who came before us and to speak up for those who may not have a voice or had their work silenced – to ensure their work is seen and valued. We must support other women and celebrate their work.
"I think it is important to contribute to science that relates to the critical concerns for the improvement of humanity and earth. To carry on the mission of the Sisters of Mercy, I try to support my students in their pursuit of knowledge, help them prepare for a meaningful career and encourage them to consider the social and potential implications of the science they study."
Gina Rossetti, Ph.D., Language and Literature
"As a woman who focuses on literary scholarship, I focus my attention on the extent to which women's experiences call attention to how power structures manifest in cultural relations. To offer this lens at Saint Xavier, where it is a place founded by women who exposed and challenged limiting power structures, allows me to ground my approach firmly in the mission, inviting students to examine, analyze, and engage with texts and ideas."
Kathleen Alaimo, Ph.D., History and Political Science
"When I completed my Ph.D. in history in the late 1980s, women constituted a minority in most Ph.D. programs, and women's and gender history was still viewed as novel, lacking in rigor – even a fad. During a job interview for a faculty position, a male faculty member asked me if, given my obvious interest in women's history, I was a 'bra burning feminist.' On another interview, a male faculty member quizzed me on feminist theory – almost a kind of test of my qualifications. By the way, I landed both jobs!
"For me, being a woman historian and a historian of women's history means being able to better understand the problems and consequences of underrepresentation in the study of history. That perspective brings the obligation to work harder to address the lived experiences of the often invisible and silenced peoples of the past.
"There are many ways to view the Sisters of Mercy, but certainly one way is to see them as women seeking to be their own masters, forming a community of women to meet the challenges of the moment: opening a school for girls, when education for girls was not valued, establishing a college for young women that would teach more than the traditional 'feminine arts' and instead emphasize the apparently 'masculine' subjects of history, geography and the natural sciences, choosing to fund and build a library for their women's college before funding a chapel and standing toe-to-toe with ecclesiastical authorities in defense of academic freedom.
"The late Sister Denis O'Grady, R.S.M. who was one of my first mentors at SXU, insisted that I speak my mind and quickly encouraged me to become chair of the department. So for me, carrying on the mission of the Sisters of Mercy has often been about a bold agenda of service and a commitment to intellectual rigor."
Rola Othman, Ed.D., Information Technology
"Being a woman in tech means being a trailblazer – someone who is first, strong and willing to make the tough decisions. A female is willing to take on challenges that others will not. It means being part of a small number of women who have a unique skill set. Not only do I get to be an expert on technical aspects of my job, but I also get access to the business and strategic parts as well. Women tech leaders are very small in number and it's our responsibility to grow the next generation so that they accept and overcome the challenges they may face.
"The Sisters before us were true trailblazers. They took on challenges and overcame them, challenges that very few would dare to touch. I am honored to be part of a community that is carrying on their mission. Like they did, I get to make a difference and impact someone's life positively. I get to serve the underrepresented and those in need. We should all aspire to walk in the shoes of the honorable Sisters of Mercy."
Tatiana Tatum, Ph.D., Biology
"I feel that being a woman in STEM is more challenging. It's not simply about the challenges that motherhood places on career trajectories – unconscious bias is perspective. We need to reimagine what leadership and success look like by putting women in the picture beside men. I became a mother in my late 30s, and this current combination of things makes my professional success a challenge. But I believe in the future of this planet that we will have diverse ideas from all individuals. We need wilderness areas and we need to protect the species in danger of going extinct – that is my drive."
Iman Saca, Ph.D., Anthropology
"Anthropology, like most other sciences, has been traditionally male-dominated. However, in all four fields of anthropology --cultural, archaeology, linguistics and physical--, women have made significant contributions to the establishment and growth of the field, as early as the 1800s, including Ruth Benedict, Margaret Mead, Gertrude Bell, Gertrude Caton-Thompson, Dorothy Garrod, Kathleen Kenyon, Mary Leakey, Tatyana Proskuriakova, just to name a few. Many of these anthropologists have questioned traditional philosophical paradigms of their field that were based on deeply-rooted Western views and heavily centered on the male perspective. When women work in 'non-traditional' careers, they are seen as something of a novelty, which causes us to lack support systems that help us to do our research and contribute.
"As the first woman Palestinian to obtain a Ph.D. in prehistory and continuously participate in fieldwork in many Middle Eastern countries, I had to work hard, stay strong and focused and remain unapologetic for who I am and the career I chose. My main goal is to expand my research and teach and support my students, especially the young women entering the subfields of anthropology.
"I am fortunate to be part of an institution started by strong women with a Mercy mission that fits beautifully with the work I do around the world. My current anthropological work is expanding in areas that are emphasized in the critical concerns of the Sisters of Mercy, which are ethical concerns that pertain to any human society, for which I am ethically responsible to focus on in in my research, fieldwork and teaching."
Cynthia Grobmeier, Communication
"Bringing the perspective and voice of women to any context is a great honor, but it has been a particular honor to be the president of a nonprofit. As a communication educator and scholar, talking what I know about storytelling and strategic messaging has been invaluable to moving forward with the Maddog Strong Foundation's mission to educate teens and young adults about the life-saving need to register as an organ and tissue donor. We aim to develop the next generation of donation advocates.
"My passion for this mission comes from being a Donor Mom. We lost our daughter, Maddie, in 2019, just one day after her 18th birthday when she suffered an acute asthma attack. Because she had the strength and courage to tell us about her decision to be a donor, she saved three lives, gave sight to two people and changed the lives of dozens of people with her gifts. The sudden loss of a beautiful life is transformative, and to be able to do something positive from that loss is a blessing. I have also found that it transformed me as an instructor – I speak honestly with my students about my personal tragedy in hopes they will feel like they can reach out to me for support.
"The Sisters of Mercy have a long-honored history of selflessly serving the greater good courageously and compassionately. I am honored to serve this legacy, and I have found strength in their strength. Having suffered such an unimaginable loss, I have been able to find some hope in being able to use my pain to serve the greater good."
Patricia Lee, Music
"I feel very lucky to live in the 21st century, when women have access to just about any job in music they might desire. Up until the '70s, the field of classical music was basically still a man's world, especially for symphony orchestra players, but with the advent of professional unions and the efforts of some very pioneering women, doors were opened that allow women like me to live our childhood dreams of becoming professional musicians. I have been able to pursue a very fulfilling, successful career both as a professor and an orchestra musician, playing with major ensembles like the Chicago Symphony Orchestra, all because of those women who came before me and broke down gender barriers.
"Part of the mission of the Sisters of Mercy has always been to serve the underserved and disadvantaged, especially women and children. At SXU, many of our music students come to us without having had access to a full slate of music study through their elementary and high school years. We meet them where they are and allow them to pursue their goals in music while working to fill in those gaps that may exist in their musical backgrounds. I'd like to think I can be a role model for the young women in the Music Department to see what is possible for women in our field of study."
---