SXU Double Alumna Successful Entrepreneur With Two Businesses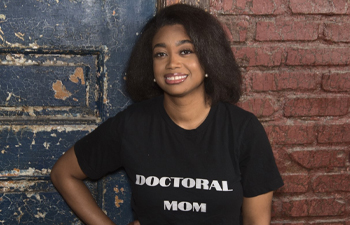 In the past few years, Saint Xavier University (SXU) alumna Brittne Martin '08, '10, DBA, has earned her doctorate and started two successful companies, including a nonprofit – and her path to success started at SXU.
After earning a business undergraduate degree and an MBA from Saint Xavier's Graham School of Management (GSM), Martin pursued a Doctor of Business Administration with a concentration in marketing from Argosy University. Soon after, she started Ebbing Forward, LLC, a career coaching company that offers webinars, virtual events, professional development and consultation. Martin wanted to give people of color a platform and virtual space to express their humanity and expertise. Next, she developed Doctoral Mom Incorporated, a nonprofit designed to support mothers in doctoral programs.
"One of the foundational things that Saint Xavier always taught me was to look for the need in the market. I wanted to address the underrepresented. When I went through my doctoral program, I didn't see any other mothers. I felt alone and needed some type of system that didn't seem to exist, so I decided to create it. I learned from SXU to fill the needs of other people," said Martin.
Doctoral Mom has nearly 4,000 members and represents over 100 colleges and universities across 68 countries. The organization provides scholarships to mothers in need and partners with other companies to provide additional assistance, like domestic violence education. Martin's expertise and strength makes her a strong leader for Doctoral Mom. She had all three of her children during her doctoral program and was actually in labor while defending her dissertation!
"The biggest goal for me is making sure our future generations see the pathway into doctoral programs. I was a first-generation, low-income student and now I am creating opportunities within my own family by being the first. I can help my children and my parents and I want to help make that possible for other students," said Martin.
Martin's interest in business all started from a candy bar. While in high school, she was selling candy and pitched a sale to a businessman. He asked her what she knew about marketing and told her that she was good at connecting with people. From there, her interest in business blossomed. She chose Saint Xavier because she wanted to go to a school where she wouldn't just be a number and could build relationships with people.
While at Saint Xavier, Martin was a member of Student Government, the Business Student Association (which she revived) and president of both the East Asian Anime Club and Service Club. Martin is grateful for the outstanding GSM faculty, including Joyce Hunter, DBA, who encouraged her to pursue her doctorate; and Anjali Chaudhry, Ph.D., who took Martin to China and Italy during her MBA studies. Her professors even helped her to get to former U.S. president Barack Obama's inauguration. Martin credits Saint Xavier for teaching her how to maintain relationships and network with others, as marketing is at the core of everything she does.
"When I was in China, I actually got to present a report to Grainger [the motor supply company]. I gave their CEO an analysis of how I thought they were performing – talk about high-impact learning! To this day, I am always storytelling or content writing and pitching my expertise to raise more funds and get more donors and grants, and I learned all of that at Saint Xavier," said Martin.
Martin is also grateful for learning more about service at Saint Xavier, and she finds that she continues to incorporate a service-based philosophy into her work every day.
"The work that I've chosen to do, especially Doctoral Mom, is completely service-oriented. A lot of people don't realize these moms are underfunded and going to school to provide a better life for their children but accumulating debt while doing so. In providing scholarships, I hear stories about women struggling, including some who are worried about feeding their children. But the more we create awareness, the more we can help those in need," said Martin.
As SXU celebrates 175 years in 2021, Martin feels proud to be part of Saint Xavier's history as a double-graduate.
"Saint Xavier continues to advance but always focuses on the roots of its core values. When I came to Saint Xavier, diversity was at the forefront. The community recognized the need to embrace us all and make us really feel at home in the community. There was so much space to address issues, which makes me proud of SXU, and I look forward to its future," said Martin.
In her free time, Martin likes to spend time with her family, garden, exercise and listen to professional webinars and podcasts. She plans to continue creating content for both of her companies and develop new retreats, leadership events, career fairs and more.
---