SXU - A Family Tradition: The Alvarado Family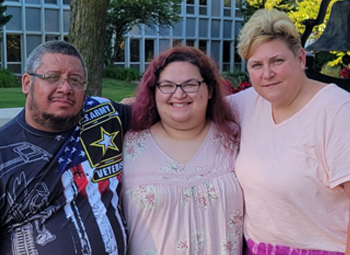 In celebration of 175 years of Mercy education, our Legacy Family series honors the generations of families committed to advancing the SXU mission.
Saint Xavier University (SXU) legacy family Julianne '95, '08, Juan '06 and Jeanette '23 Alvarado all agree that they experience a true feeling of family when they walk around Saint Xavier's beautiful campus. Julianne and Juan were thrilled when Jeanette, their daughter, decided to attend "their" school, and the three rejoice together in their Catholic, liberal arts education as they all contribute to the good of the world in different ways.
Julianne studied education and mathematics during her undergraduate career at Saint Xavier and returned to earn a master's degree in special education in 2008. She has been teaching for 25 years, mostly in Catholic and private school settings. She is a member of the Learning Disabilities Association of Illinois and has received the Distinguished Service Award to the Archdiocese of Chicago in 2014 and the Catherine McAuley Award in 2016 and was also a Sam Kirk Award Nominee for Learning Disabilities of Illinois for the 2015-2016 school year.
Currently, Julianne is a learning resource coordinator at Mother McAuley Liberal Arts High School, where she has taught for 14 years. She enjoys working for a Mercy school, as it gives her focus and direction, and she finds joy in working with and learning from her students.
Julianne was a first-generation college student, raised by a single mother who was told that children of single parents did not go to college. Both Julianne and her sister defied those odds by graduating from Saint Xavier and found that the institution met their needs and paved the way for their success. While at SXU, Julianne was a member of the Student Government Association and served as a student worker for the Learning Center and the Education Department. She greatly enjoyed working with professors. Julianne credits her time at SXU for giving her both a well-rounded liberal arts education and an opportunity to continue her faith.
"Originally, I attended a state university but did not feel comfortable there. The week I came back to Chicago, I took the entrance tests for SXU and felt that the fates brought SXU and me together," said Julianne. "During the time I attended Saint Xavier, it went from being a college to a university, and that was very exciting for us students."
Julianne and Juan met while Juan was serving in the military. Juan, who was born and raised in El Salvador, came to the United States as a young man and entered the United States Army upon graduating high school. He was injured as an 82nd Airborne Paratrooper in 1998 and struggled to stay in the active role he was in. A Veterans Affairs vocational and educational rehabilitation representative helped Juan, also a first-generation college student, apply to and learn at Moraine Valley Community College for two years and then transfer to Saint Xavier, where he excelled and where his success as a student sparked the drive to pursue further education.
Juan studied business administration and marketing during his undergraduate studies at SXU and served as a student ambassador. After graduating, he gained experience as a production coordinator for metal, printing and distribution industries. He also earned master's degrees in business administration and project management from the Keller Graduate Business School. Currently, Juan works for the Social Security Administration as a customer service representative and enjoys helping others.
"SXU opened my mind to more than what I knew and wanted. The institution helped me to be a better Christian and more compassionate to others and have more of a stewardship mindset," said Juan.
Jeanette is currently studying studio art. She plans to enter the toy industry and aspires to work for Mattel. She spends time creating art for family and friends, which gives her the opportunity to practice her craft. She feels that what she's learning at Saint Xavier is preparing her well to reach her dreams.
"I get to work with fellow artists and learn from professors who know the true art world. SXU has also fulfilled my desire to continue my Catholic education in a comfortable and caring way. I'm so happy to attend an institution that has the belief system I am used to," said Jeanette.
Both Julianne and Juan fondly recall learning that Jeanette was accepted to SXU and find comfort in knowing Jeanette attends school there and loves it. Together, the family enjoys watching the institution evolve and shares many wonderful memories.
"I have many favorite memories of SXU, such as watching my husband graduate in 2008 and my daughter graduate in 2019 from Mother McAuley in the Shannon Center. The Shannon Center was a true asset to the University campus. I also fondly recall Dr. Meg Carroll, a gifted educator and favorite professor of mine who I've worked with outside of SXU as colleagues within professional groups. She has influenced my approach to learning and teaching and continues to encourage me as I move forward in my career. I attribute a lot of my success to her and professors like her who took the time to get to know me," said Julianne.
"Julianne is an amazing teacher. She was my student at both the undergraduate and graduate level, and I worked with her professionally when we were both members of the board of the Learning Disabilities Association of Illinois. As a teacher, Julie offers students a strong advocate and a listening ear, but she also teaches girls to advocate for themselves and requires them to put in the hard work necessary to succeed. Julie knows her students individually and provides each with a support system. She's made if her life's work to keep abreast of technology, teaching strategies and motivational strategies that bring the Mercy charism to the young women she serves," said Carroll.
The Alvarado family believes that Saint Xavier means success, and though they had no idea they would become a legacy family, they are pleased to be part of the University and share in its core values, which they live daily to contribute to a better society.
Julianne will soon be entering her fifteenth year working in Mercy education. She is also working on another master's degree in teacher leadership. She hopes to eventually return to Saint Xavier to share her teaching experiences and follow in the Mercy tradition. Both Julianne and Juan look forward to watching Jeanette graduate, and Jeanette looks forward to making advancements in art and making her family proud as they all carry on the Saint Xavier legacy.
---