SXU - A Family Tradition: Jenny DeVivo and Jennifer Sullivan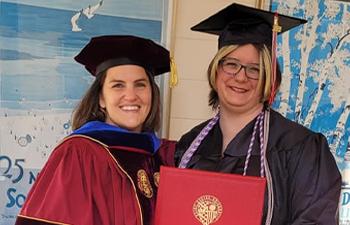 In celebration of 175 years of Mercy education, our Legacy Families series honors the generations of families committed to advancing the SXU mission.
Saint Xavier University (SXU) alumni family Jenny DeVivo '99, OblSB, Ph.D., and Jennifer Sullivan '21, cousins, feel that they have "thrown their life's lot in with Saint Xavier," a phrase introduced by Avis Clendenen, professor emerita of religious studies at SXU and current SXU Board of Trustee member, and one that perfectly describes how honored they are to carry on the institution's legacy.
DeVivo, who majored in religious studies with a pastoral ministry minor, graduated summa cum lade in 1999 and went on to teach high school theology for four years. She earned a master's degree in theology with a biblical studies emphasis and a doctoral degree with a focus on New Testament and early Christianity. She has taught in the theology departments of Loyola University, Lewis University and Saint Xavier. Currently, DeVivo is the executive director of Mission and Heritage at SXU.
"There is a large educational component to my work in helping to design and shape education surrounding our mission. I love the role of keeping our institutional memory alive and helping us continue in our proud legacy," said DeVivo, who has been interested in faith studies since high school.
DeVivo has contributed to multiple publications, including collaboration with SXU's Troy Martin, Ph.D., religious studies professor, and Clendenen. She was the recipient of SXU's Sister Mary Josetta Butler Award in 1998 and has been nominated for several other awards for recognition and excellence in teaching. DeVivo also stays active in the field by serving on the editorial board for "Verbum Vitae" and as a conference coordinator for the Student Religious Studies Conference of the Midwest.
Sullivan received her nursing pin on August 5. She initially started her nursing journey 25 years ago in 1996 when she was accepted to the University of Illinois at Chicago (UIC) for nursing right after graduating from high school. As a first-generation college student, she struggled to succeed and dropped out after one semester. She received a CNA license from Moraine Valley Community College in 1999, worked for a large hospital system for five years, and then left to raise her children. When her father died suddenly in 2016 and she witnessed the care his nurses provided him in the ICU, she realized it was time to return to nursing school.
Both DeVivo and Sullivan find that their time at Saint Xavier was instrumental to preparing them for success. Sullivan is grateful for the assistance of Terry Miller, advisor for the accelerated BSN program, and Susan Hampson, nursing professor, both of whom were encouraging, helpful and compassionate. DeVivo found mentors in Martin and Clendenen, who she believed sparked her interest in becoming a biblical scholar, as well as in Safia Haddad, Ph.D., a language professor who helped DeVivo continue to grow even in retirement.
"As a first-generation college student, I feel that I really needed the education SXU gave me. I didn't know anything about how college worked or how to be a college student. I think SXU excels at supporting students who are capable of earning a college degree but who need the additional support to navigate an unfamiliar world," said DeVivo.
"SXU has done a great job in preparing me to become a nurse. The faculty has been amazing as we all tried to navigate Zoom, VidGrid, Canvas and clinicals during the pandemic. As students, we sometimes forget all the work instructors put into in-person classes, but with the quick switch to the online platform, they did an amazing job," added Sullivan.
During her time on campus, DeVivo was involved with the University Chamber Singers and University Chorale. Both DeVivo and Sullivan have fond memories of campus. They enjoyed bumping into each other and sharing a hug and a picture during May's Commencement ceremony. DeVivo also remembers playing two spunky nuns and singing in "Suor Angelica" under the direction of Jan Bickel, Ph.D., during her last semester.
The two find that Saint Xavier's Mercy mission and core values play a huge part in their everyday lives.
"Catherine McAuley had a reverence for education. Catholics consider education as one of the missions of the Church. As a first-generation college student and SXU alumna, I have a profound reverence for education and its potential to transform lives; I know my life has been transformed by my SXU education. Both professionally and personally, my mission is to help as many people as possible have access to education," said DeVivo.
"I've always seen it as my job to help people, and since SXU's Mercy mission is the embodiment of the nursing profession as a whole, I integrate it into my life daily," added Sullivan.
In the future, Sullivan hopes to study Italian and eventually become a travel nurse for a year in Italy. DeVivo is currently in a two-year program to learn how to be a spiritual director. Both are thrilled to celebrate Saint Xavier's 175th anniversary.
"I was a student when SXU celebrated its sesquicentennial (150th) and am so excited to be back at my alma mater for its 175th. I often tell people that I intend to keep working here and get us to our 200th and then I'll start planning my retirement. I think it is a very good cause to give my life's work and career to this important place that has been transforming lives for the past 175 years," said DeVivo.
---