SXU - A Family Tradition: The Manikas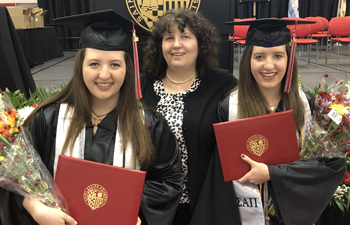 In celebration of 175 years of Mercy education, our Legacy Families series honors the generations of families committed to advancing the SXU mission.
Saint Xavier University legacy family Colleen '83, Christine '18 and Katie '18 Manika all agree on one thing for certain – a Catholic education and a liberal arts experience is invaluable. Though they each had very different undergraduate career paths, they all got something great out of their Saint Xavier experiences.
Colleen, Christine and Katie's mother, majored in elementary education with a minor in psychology, while Christine majored in communication and Katie majored in biology pre-health.
Christine and Katie didn't immediately follow in their mother's footsteps. Instead, they attended Saint Joseph's College in Indiana, which spontaneously closed in 2017 due to budget issues. The two had to start at Saint Xavier during their senior year. While not ideal, they found they were met by welcoming peers and instructors who embodied the core values of hospitality and compassion, and they received the tools they needed to prepare for the unexpected.
After graduating from SXU, the three continue to pursue careers in fields related to their undergraduate studies and are currently thriving while learning and growing.
Colleen teaches math, religion and social studies at St. Leonard Catholic School in Berwyn and received the Frigo Cheese Heads "Build a Bright Future" Award for being one of the best teachers across the country.
Katie is currently in her second year of veterinary school and plans to work at a mixed animal practice after graduating. She is excited to join a versatile field where she can conduct research and practice.
Christine is a morning host for KXRB Radio, a media station is Sioux Falls, South Dakota. She gets to introduce concerts, interview big country music stars like Keith Urban and Scotty McCreery and spend time behind the scenes.
The memories the three have of Saint Xavier are precious ones they'll carry with them through their lives. Katie got to go on a research trip to Missouri at the Reese Biological Center, where she surveyed different amphibians, reptiles and water quality content. Christine was part of WXAV, Saint Xavier's radio station, interned with Production Services and Fox 32 News, and was a member of Tau Sigma, a national honor society for transfer students. Colleen played intramural basketball, participated in the student council and spent lots of time out with peers.
"My time at Saint Xavier helped me prepare for real-life situations. I got to travel with the sports teams and develop stronger radio content. Part of what I do now is write articles for our website in addition to broadcasting. At Saint Xavier, we were given deadlines, word counts and scenarios -- experience that I truly utilize every day," said Christine. "The people I met are still my friends to this day, and I still keep in touch with my professors – I even pass job opportunities at the radio station on to them."
"Though I got to Saint Xavier a little late in the game and couldn't do as much research as I wanted to, my entire objective was to get my credentials for medical school and graduate on time. The most helpful aspect for me was the library, where I learned to stretch my brain out to its maximum capacity," said Katie. "I learned good study habits, which helped me prepare for a graduate program, and the people I met within my undergraduate program were super-helpful and helped me thrive."
"The elementary education program was phenomenal. We were all very well-prepared, and it's why I am so successful in the classroom today. Our preparation was very hands-on, meaningful and realistic. They gave us as many opportunities as they could possibly find to give us experiences in actual classrooms, and I was taught how to problem-solve and think on my feet. Those higher-level thinking skills are what serve me best in my profession, and I remember having wonderful discussions across the board. It was truly a superior education," said Colleen.
The three share some fun memories at Saint Xavier together, especially the times they all attended basketball games or Sunday evening mass together and the times they grabbed Starbucks together on campus. They also recall their fondness for some of the professors who helped them the most through their undergraduate careers. Christine credits Vince Davis, Brad Mello, Ph.D., and Peter Kreten, who made her feel comfortable and helped her build a solid communication skillset, and the late Coach Bob Hallberg, who helped her develop professional relationships with the teams she'd cover. Katie enjoyed the advice and knowledge given to her by Bindhu Alappat, Ph.D., and Tatiana Tatum Parker, Ph.D., and Colleen has excellent memories of her time with Sister Denis O'Grady, R.S.M.
"Christine came to us during her senior year after her previous University closed suddenly. She hit the ground running and contributed to SXU through her work and I am not surprised she's already on air with her own show! She's done the work to get there," said Mello.
"Christine was truly an excellent student. She was always an integral part of class discussions, someone that has shown courtesy and respect for others, and someone not afraid to ask questions to understand the material or to understand others' perspectives. Christine truly is a great representative of the Communication Department here at SXU. It cannot be said enough as to how proud I am of her accomplishments thus far," added Davis.
"Katie was a solid, conscientious student who thrived at Saint Xavier and welcomed challenges. She learned genetic information well and is able to apply it to real-life situations. Katie possesses a drive and determination that is rare and will be an invaluable asset to obtaining her ultimate goal of becoming a veterinarian. I know she will excel in her veterinarian medicine program and I would be honored to have her as my cat's vet!" said Tatum Parker.
The three are pleased to be part of Saint Xavier's rich 175-year history and look forward to watching future generations of students excel in the same way they did.
"The greatest gift anyone can receive is the gift of a Catholic education. It is so special and unique, and I feel very blessed to be the recipient of such a wonderful gift and be part of the 175-year tradition rooted in Catholic values and advanced learning. No one has been more dedicated to education than the Sisters of Mercy, and the foundation they've provided to individuals for so many generations is just incredibly special," said Colleen. "The institution may be small but is mighty and has a tremendous number of outstanding characteristics and qualities to offer the students. Saint Xavier helped me realize my dreams and supported me in reaching them."
---