SXU - A Family Tradition: The Othman Family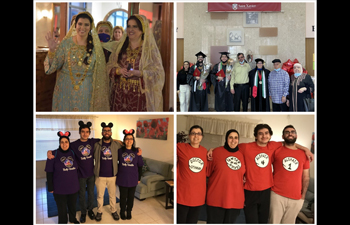 Saint Xavier University (SXU) alumna and staff member Rola Othman's '94, '03, Ed.D., family has been a pivotal part of the University for over 30 years, and they plan to continue to be part of the legacy for years to come. Rola's sisters, Lina Zayed '95 and Ronza Othman '03 attended Saint Xavier, and so did her sons, Ahmad Alshair '18, '21 and Kamal Alshair '20, '21.
Rola has been working at the University since 2005. She began her undergraduate career in 1992 and graduated in 1994 with a bachelor's degree in criminal justice with a minor in psychology. She returned to earn a master's degree in applied computer science and an MBA in 2003 and began adjunct work for the University in 2004, accepting a full-time position in Information Technology in 2005. She earned a doctorate in education from Benedictine University in 2016.
Lina majored in chemistry and minored in mathematics while at Saint Xavier. She also earned a master's degree in chemistry from Governors State University. She's been teaching full-time since 1999 and teaches STEM at Gwendolyn Brooks College Prep in addition to being a cosmetic scientist. She owns her own salon and develops products for hair to help with hair growth. Lina often works 7 days a week and up to 16 hours a day.
Ronza graduated with undergraduate degrees in biological sciences and philosophy with a minor in psychology. She attended graduate school at DePaul University, where she earned a master's degree in government and nonprofit administration and a juris doctor in law. She is a practicing attorney in Maryland with an interest in civil rights and health care law and was appointed by former president George W. Bush to work for the U.S. Department of Homeland Security and later reappointed by former president Barack Obama during the time of the Affordable Care Act. She is currently the director of equal employment opportunity (EEO) compliance, managing an antidiscrimination and civil rights program for the federal government. Ronza has been blind her whole life and served as a government programs specialist for the National Federation of the Blind.
Ahmad graduated from SXU with an undergraduate degree in computer science and returned to earn an MBA. He currently works in the information technology industry and is grateful for his mother, Rola, and her excellent guidance and mentorship along the way. He hopes to eventually earn a doctorate and teach at the college level.
Kamal also earned an undergraduate degree in computer science and returned to earn an MBA and master's degree in applied computer science. He jokes that the computer science path in their family is genetic. As he graduated in the midst of the COVID-19 pandemic, he is currently looking for work but has been busy keeping up to date on computer trends and helping his family.
All five family members agree that SXU did an excellent job delivering a Mercy education that prepared them to be compassionate and productive citizens.
"I had an unforgettable experience with the Sisters of Mercy. Sister Frances Crean came down with me to the bookstore and bought all my books when I couldn't afford them. She told me she didn't want me to repay her monetarily – she wanted me to help someone in need in the future for their education. I probably wouldn't have finished if she didn't help me," said Lina.
"The Mercy values were well-integrated into my life," added Ronza. "I worked at Regina Hall during September 11, and it was one of the most traumatic days of a lot of our lives and a scary time to be Muslim. Staff and administration got together to figure out how they were going to protect their Muslim students. What resonated for me was the Mercy traditions of care and compassion. Another time, the woman who hired me to work at the switchboard didn't find my blindness to be an obstacle to me doing a good job. Saint Xavier makes you feel valued and important and frankly, 20 years later, I haven't found that anywhere else."
"We are an immigrant family and were first-generation students. I had no idea what I was doing when I started at Saint Xavier and was overwhelmed. Sister Denis O'Grady and Dr. Avis Clendenen were rocks for me. She taught a spirituality class and it was an introduction to something that really aligned with my Muslim faith and showed me that you could have different people of different faiths with the same mindset and core values. Plus, a liberal arts education really teaches you how to think," said Rola.
"Everybody at the University embodies those core values and pushes those values onto their students. Both the faculty and staff were pivotal in our success, and it's really encouraged me to give back," added Ahmad.
The whole family was involved on campus during their time at SXU and beyond.
Ronza was a part of student government, the president of the Muslim Association, a member of the philosophy club, a member of the Student Success Program (SSP) and an orientation leader. Rola was part of the International Students Association, worked in the campus daycare, and was a member of the Criminal Justice Honor Society. To this day, she remains involved on campus, serving as president of Staff Council, chair of the Service Excellence Committee, member of the National Alumni Board, member of the IRB board and contributor to strategic planning. Ahmad was part of the Science Club, Chemistry Club and Chess Club and he completed an IT internship for course credit.
They also share plenty of fond memories together.
Ahmad and Kamal got to walk the stage together in 2021, a very meaningful moment for the family. As a family, they've experienced over six graduations at SXU. Ronza was an inaugural resident of McCarthy Hall and a member of the first cohort of SXU's Honors Program. Rola was the first student to join and graduate from SXU's Master of Applied Computer Science (MACS) Program.
The family's time at SXU was incredibly meaningful for them all, and as SXU celebrates 175 years as an institution, they are proud to be part of its legacy.
"SXU is our home away from home. I take immense pride in saying I graduated where my mom and her sisters graduated from. SXU's impact shaped me into who I am today. I will never forget my time there and the experiences I gained as a result of my family's experiences," said Ahmad.
"SXU was not my first choice, but once I made a decision to come here, I have no regrets. I got a solid education and was prepared for the job market. The professors and staff here were pivotal in my maturity and were great contributors to my development and growth. I will always think of them all fondly. I had a wonderful experience. I feel blessed," shared Kamal.
"Being a part of Saint Xavier's legacy is humbling. Our family has been involved in the SXU community for over 30 years. College is the most formative part of our adult lives, and the best thing I have ever done was come down to Saint Xavier and make the decision to attach my name to the institution and make myself part of its legacy and it part of mine. I hope they name something after me one day!" said Ronza.
"Saint Xavier is the best placed in the world. Why would you want to be anywhere else? We continue to sustain the values and critical concerns that shape our history, not just with this generation but into the next. I pray my grandchildren will attend Saint Xavier. They'll get an education that leads them to be more compassionate, understanding and loving," said Rola.
Other family members that attended SXU include Rola's niece, Danyah Zayed '11, nephew Mahmoud Othman '16, and her sister, Rahaf Othman '99.
---