SXU - A Family Tradition: The Quiroz Family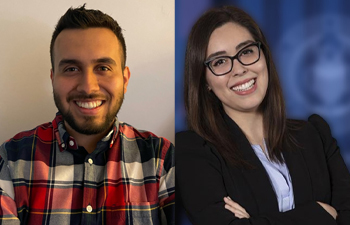 In celebration of 175 years of Mercy education, our Legacy Family series honors the generations of families committed to advancing the SXU mission.
Saint Xavier University (SXU) legacy family Michelle '15 and Marcos '19 Quiroz have found that their love of accounting provides them with endless opportunities. Both graduates from SXU's Graham School of Management (GSM), the brother and sister pair are excelling in a field that demands the skills they learned at GSM: critical thinking, analysis and service excellence.
Michelle, a first-generation college student, originally planned on studying nursing, but after a conversation with her dad's accountant where she learned about the variety of career options and skill sets, she decided to give accounting and finance a try.
After graduating from SXU, Michelle began working at the Federal Reserve Bank of Chicago, where she worked her way up from statistical reports analyst to senior auditor, reviewing the business's processes, considering any risks to established controls and safeguarding the organization's assets. She credits her time at SXU for preparing her for success.
"Saint Xavier prepared me for real-life situations professionally and personally. I learned critical thinking skills, complex problem-solving and how to produce high-quality results," said Michelle.
While at SXU, Michelle worked as a student worker in the Records and Advising Office and the Office of Financial Aid. She was a member of the Accounting Student Organization, Business Student Association and several student advisory committees. She also participated in the spring service trip during her senior year, which she found enriching and impactful.
Marcos found himself inspired by how quickly his sister started her career after graduating from SXU. Interested in becoming a CPA, he wanted to expand his skillset, learn to lead a team, communicate with clients from prestigious brands and strategize career opportunities, all things he'd be able to do at GSM.
After graduating, Marcos began studying for his CPA exam and began working full time as a tax accountant for PricewaterhouseCoopers (PwC). He focuses on a variety of service offerings, but his main focus is research and development (R&D) credits. He enjoys building new relationships with clients and starting new projects.
"SXU prepared me well to pass all four parts of the CPA exam on my first try. I would not be where I am today if not for the professors and staff who were part of my personal growth and provided guidance and support throughout my college years. They taught me to remain humble and never forget my roots and where I came from. I took just as much pride in mopping for my student worker position at the Shannon Center as I do for delivering a client tax document today," said Marcos.
Both Michelle and Marcos are appreciative of the opportunity to be immersed in SXU's Mercy mission and core values, which they integrate into their lives daily.
"I embody compassion and respect in myself, to loved ones and within professional settings. It could be when having a conversation with someone with a divergent view, helping someone through a difficult moment in life or getting to know someone from a different walk of life. It's rewarding," said Michelle.
"SXU's mission and particularly the core values of compassion and respect are integrated into my daily life. I volunteer through employers to help current SXU students join the firm as interns or start their careers. My goal is to reach out to students and provide advice and guidance and mentor them to help them achieve their professional goals," added Marcos.
During her career, Michelle has held various board roles for the Latinx Employee Resource Group, mentored Cristo Rey High School students and mentored students through Working in the Schools (WITS) Programs, which bring together schools, families and communities to create responsive environments that help children deal with bullying.
In the future, Michelle plans to grow in her current role and hopes to eventually move up to a leadership role within her organization. She also anticipates earning her CPA license. Marcos, who's very happy working at PwC, plans to work there for years to come and eventually become a manager so that he can talk to clients, manage engagements and coach future associates in achieving their goals. The two also look forward to what's next for Saint Xavier as it celebrates 175 years as a Mercy institution.
"It is an honor to be part of Saint Xavier's 175 years as an institution. Following the Mercy mission is how I was raised as a Catholic and how I continue to lead my life," said Michelle.
"The University played a very meaningful role in who I am today and I will continue the legacy for current and future generations," added Marcos.
---