SXU - A Family Tradition: The Seboks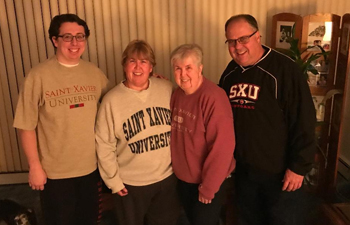 In celebration of 175 years of Mercy education, our Legacy Family series honors the generations of families committed to advancing the SXU mission.
Saint Xavier University (SXU) legacy family Linda '85, Diane '87, '92, and Dave '90 Sebok and Charlie Murphy '16 have collectively studied and worked at the University for nearly 40 years, and they all feel that their time at Saint Xavier prepared them to be successful, compassionate citizens. Diane is Linda and David's mother and Charlie's grandmother.
Linda studied business, accounting and finance while at Saint Xavier. When she was 16, she took a part-time job at White Castle and continued to move up throughout the company, moving to Columbus, Ohio in 2001 to continue her career in their home office. She worked there for 43 years before retiring from the position of director and training development, where she helped others grow and learn. She also earned an MBA in 2013 from Ohio Dominican University. While at SXU, she was involved in student publications, including keeping the budget. She also had a part-time job on campus in the Ludden Speech and Language Clinic. She made many friends that she continues to keep in touch with today.
"I was a business major, but my education included so much more than that – it prepared me to become the best version of myself. I had real-world practice in a safe environment," said Linda. "I had so many great memories at SXU, especially during special events and celebrations when the whole family was there."
Diane earned a bachelor's degree in liberal studies at Saint Xavier and returned to pursue a master's degree in education a few years later. Though she is now retired, she spent many years working at SXU as the assistant director of academic advising. She found that her studies in education helped to make her a better advisor. While serving at SXU, she was involved in several committees and projects.
"My time at SXU prepared me to be empathetic due to the shared experience of the pressures and demands of being a student. I have over 20 years of memories of my time there," said Diane.
Dave graduated from Saint Xavier in 1990 with a degree in criminal justice and spent 30 years working for the Chicago Police Department as a subpoena officer. He retired in March 2020. While he attended Saint Xavier, his mother worked there, so he got to check in with her every day. He currently lives near the University and still attends plenty of Cougar games. He found that his professors did an excellent job in helping him to grow.
"Sister Denis O'Grady was amazing. She helped me navigate through classes so I was able to work and study. Another great class I had was with Professor Frost, who would invite everyone to Gilhooley's after class," said Dave.
Charlie graduated in 2016 with a bachelor's degree in business administration. Since graduating, he has worked as an escrow settlement specialist for a title insurance company. He enjoys it because he gets to work with numbers. Charlie has plenty of fond memories of family time at SXU, especially watching fireworks shows and going to football games together. Charlie plans to eventually earn a master's degree and feels his time at Saint Xavier will help him to take on new challenges.
"The Graham School of Management really allowed me to enhance my learning and become a more complete student," said Charlie. "My time at SXU helped me grow and become a more compassionate and understanding person, which allowed me to be a greater employee and provide the best service possible to my customers."
All four agree that SXU has played a significant role in their lives and that they are proud to be part of its history.
"SXU has been a staple in my life. Between my aunt and uncle going to school there and my grandma working there for years, it's always been so important to us," said Charlie.
"SXU will always be part of our family. My mother, wife, sister, brother-in-law, sister-in-law and nephew have graduated from there. I still walk the beautiful campus grounds often with my dog," added Dave.
"SXU to me means family. It's a place that allowed me to learn, grow and value differences in people. It was welcoming and a place where I felt safe, a community of people that cared about me and my learning. I am proud to be part of a family that not only attended classes, but worked there and contributed in a meaningful way to the history of the University," said Linda.
"I hope that I continue to offer the spirit of Mercy to everyone I encounter and hope to continue to grow in wisdom and grace. I am proud to know that I played a small part in the history of SXU," added Diane.
---