SXU - A Family Tradition: The Telanders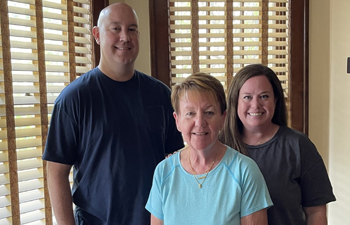 In celebration of 175 years of Mercy education, our Legacy Family series honors the generations of families committed to advancing the SXU mission.
Saint Xavier University (SXU) legacy alumni family Patricia '71, '77, Elizabeth '02, '04 (Szhmitz) and Mark '04 Telander are proud to be part of the SXU community.
Patricia (Pat), mother to siblings Elizabeth and Mark, earned her undergraduate degree in speech-language pathology from Saint Xavier in 1971 and returned to study learning disabilities for graduate work in 1977. She worked as a speech-language pathologist for 40 years in two public school districts and various contract agencies and was the owner of a small business for several years. She has been happily retired for ten years.
Elizabeth earned her undergraduate degree in elementary education in 2002 and returned to SXU to earn a master's degree in reading and literacy. She achieved National Board for Teaching professional standards certification in 2008 and 2018 and is beginning her 20th year as a kindergarten teacher for Chicago Public Schools (CPS).
Mark earned his undergraduate degree in political science from SXU in 2004. He was inducted into the SXU Athletics Hall of Fame in 2011 for basketball and was part of the NAIA All-American 2nd team in 2003 and 3rd team in 2004. He also earned CCAC Player of the Year in 2003, having scored a total of 2,200 points. He is currently the director of business development at CardWorks and was formerly a commodities trader at the Chicago Board of Trade.
All three of the Telanders find that their time at Saint Xavier prepared them well for their futures.
"The undergraduate classes, on-site clinical opportunities and various off-campus facilities enabled me to be prepared for my career. I came from a long line of Mercy-educated women and was fortunate enough to have wonderful role models for the appreciation of Catholic education," said Pat.
They also carry great memories of Saint Xavier with them. While at Saint Xavier, Pat was hired as the first-ever work-study student for the Office of Admission. She was also active in the College of Republicans and was the College Republican of the Year in the State of Illinois in 1970. She was a student when the college went co-ed. Mark played basketball for his entire college career.
"My fondest memories of SXU were from the relationships I was able to form with my teammates and coaches on staff. Many of these relationships have turned into lifelong friendships," said Mark.
Mark and Elizabeth graduated on the same day in 2004, something the family will always fondly remember. They also enjoyed cheering on Mark during his basketball games and participating in various activities in the Shannon Center.
"SXU was the foundation for all three of us and we are very proud to be part of the SXU community. Having grown up next door in Evergreen Park, SXU was and always will be a part of our lives, from riding bikes through the campus as kids to receiving our degrees as students and visiting the campus as alumni," said Pat.
---