SXU - A Family Tradition: The Torres Family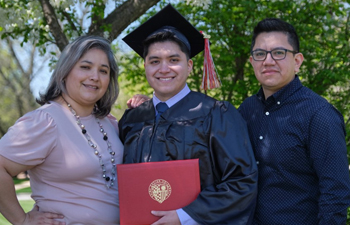 In celebration of 175 years of Mercy education, our Legacy Families series honors the generations of families committed to advancing the SXU mission.
Saint Xavier University (SXU) alumni Rick '98, Alejandra (Alex) '00 and Caesar '20 Torres all offer the same word when they think about Saint Xavier: community. The family, who's collectively been tied to the institution for over 20 years, feels that the close-knit community of supportive peers, staff and faculty made their experience one they deeply cherish.
Alex and Rick met while students in a production television class at SXU, and they welcomed Caesar into the world shortly after. Though Alex was still a student while pregnant with Caesar, she continued to work hard to earn her degree, taking night classes once he was born to ensure her continued success.
Alex, senior graphic/web designer for SXU's University Relations, has worked at Saint Xavier for nearly 20 years. As a student, she majored in mass communication with a concentration in journalism and she interned for the University's marketing department. After graduating, she worked at Catholic Charities as their newspaper editor but returned to SXU's marketing department a few years later when they were looking for a designer. She served as liaison between departments and incoming projects before becoming senior graphic designer, where she produces internal, external and web-related communication for the University for marketing, recruitment, fundraising and special events and oversees graphic design interns.
"Seeing students who were like me is my favorite part of being at Saint Xavier – watching them grow and receive an education. I also love doing my part with students who intern in our department. Seeing them spread their wings and accomplish so much because they're at Saint Xavier is amazing," said Alex.
Rick, who also majored in mass communication with a concentration in journalism, felt pressure to get a job after college since Caesar was on the way. He spent time doing manager training at Walgreen's but missed the creative side of what he studied in school, so he was able to get a job as a desktop publisher before working for a print shop and finally settling into his current role of graphics manager for a trade show, which he's been doing for 15 years.
Caesar, a film and English major with a concentration in writing, rhetoric and communication, has started his own podcast, "Sound Encounters," where he researches different artist backgrounds, histories, albums and genres. While at SXU, he was a writer and editor-in-chief for the Xavierite for four years; hosted a show on SXU's radio station, WXAV, for four years; and received awards for Outstanding Communication Student and Student Journalist of the Year.
All three agree that their time at Saint Xavier was enjoyable, unforgettable and provided them with significant resources that have helped them to be successful in their academic and professional careers.
"The professors in the Communication Department were very attentive and really cared about us and how we were learning. It all comes down to the people. My peers pushed me. Both my professors and peers really made the difference," said Rick.
"The faculty just made a world of difference," agreed Alex. "We were both commuters and first-generation students. If we didn't have SXU's staff and faculty, we would have been lost. I fell in love with the campus because it was small, personable and accessible, which made it perfect for me. Plus, I was born at Mercy Hospital, so knowing it was run by the Sisters of Mercy is a big reason I chose SXU."
"The staff and instructors are great. My mentors listened to me and gave me guidance. I still communicate with my professors, who continue to give me encouragement," said Caesar.
In addition to the memories Alex and Rick share from class, the three also share a fond memory of attending Caesar's freshman orientation together. They've also witnessed many changes over the years together, like the addition of the Shannon Athletic and Convocation Center or the McDonough Chapel. Perhaps most enjoyable is getting to watch their family thrive.
"To me, Saint Xavier means opportunity. Opportunity to grow and improve ourselves. Both our immigrant families came to the United States to improve their own lives and are so proud of our education. SXU helped us advance as a family," said Alex.
"Three words stick out when I think of Saint Xavier: community, family and tradition," added Rick.
Together, Alex and Rick also created Epic Lens Photography in 2009, with Alex as the lead photographer and Rick as lead videographer and editor. Photography has always been a passion for Alex, and now the two serve the greater Chicago area at weddings, special events and more. They've also participated in Help Portrait, taking photos of families in need or immigrant families. Both carry the core values of SXU, especially compassion, respect and service, in what they do in the world as a socially conscious family.
In the future, Alex and Rick plan to continue their work with Epic Lens Photography. Caesar plans to continue his podcast and search for work relative to his field. The three are thrilled to celebrate Saint Xavier's 175th anniversary this year and cherish the history while looking forward to the institution's future.
"175 years of tradition and a Catholic education is amazing. I hope all these years of commitment to social justice continues to be an integral part of the University's mission," said Alex.
Rick agrees. "We are all proud of our decision to attend Saint Xavier and we hope that future students will get the opportunity to experience what we felt was being part of a family. It's more than a regular educational institution. It's shaped our lives."
---