SXU - A Family Tradition: The Wogans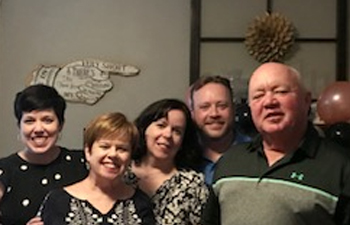 The Wogan family, comprised of parents Tom Wogan '85 and Maureen Wogan '94 and children Eileen Durkin '95, Julie McKee '98 and Tom Wogan '01, have collectively been part of the Saint Xavier Mercy tradition for more than 40 years. Each family member had separate but unique journeys, but each of their stories share one important component – they all started at Saint Xavier.
Maureen has been a pivotal and cherished member of Saint Xavier's community for years. She earned a master's degree in education at SXU in 1994 and began working at Saint Xavier in 1981 as an academic advisor. In her nearly 40 years at Saint Xavier, she's held a variety of positions, including associate director of advising; assistant to the Graham School of Management dean; managing director of advising and testing; assistant provost; associate provost; and vice president for enrollment management, student development and student success. She has received the Staff Excellence Award (now the Sr. Mary Isidore Perrigo Award), was named as a distinguished supporter to the SXU Athletics Hall of Fame, was named an Outstanding First-Year Student Advocate Finalist by the National Resource Center, and was part of the team that received the Tambellini Technology Award.
"SXU is a true community," said Maureen. "I found both the faculty who taught me and those with whom I have collaborated to be caring and dedicated to their profession. Most of my life was spent at SXU. My educational experience was amazing and certainly shaped my passion for service and leadership. Both Mother Catherine McAuley and Mother Frances Xavier Warde were privileged, yet chose a life of service. To them, education was a work of Mercy."
Tom '85 earned his master's degree in education administration at Saint Xavier and has 25 years of experience in founding and managing a privately-held business in the highly-regulated telemarketing industry. He has served as the graduate director for the Graham School of Management from 2012-2017 and taught a number of management and marketing classes at SXU as an adjunct professor. Most recently, he served as a development officer for Mercy Circle and is now retired.
"My wife's legacy with SXU is far greater than mine, but we shared an outstanding education and the pleasure of being part of a great community," said Tom '85.
Eileen, an international business major while at SXU, was a student ambassador and worked in the Registrar's Office. She felt well-prepared to tackle her next goal and attended law school after graduating. Eileen worked at the Cook County Public Guardian in the Adult Guardian division from 1997-2004. Since then, she has worked as an attorney at the Illinois Disability Association, a co-trustee of a special needs trust for disabled adults.
"SXU has been a part of my family history for so long. My father worked there when I was young, followed by my mom, who served in various positions over the years. I saw both my parents juggle work while obtaining their master's degrees, and then my brother and sister and I went on to graduate as undergrads at SXU. So many of our close friendships were formed there," said Eileen.
Julie has been a choral and theater instructor at Mother McAuley Liberal Arts High School for the past 20 years, serving as director of the school's annual fall musical production, spring play, summer theater camp and the a cappella. Under Julie's guidance, her students have visited the Vatican, where they participated in the Pueri Cantores Festival and performed for His Holiness, Saint Francis, and have made frequent appearances on WGN Morning News, CBS2 Morning News and the Dean Richards radio program. She has received the Lead. Learn. Proclaim. Award from National Catholic Educational Association in 2018 and the Heart of School Enrichment Award from the Office of Catholic Schools in 2019. While at Saint Xavier, Julie studied music and vocal performance. She was president of the Service Club and traveled to Appalachia three times for service trips. After graduating, she earned a master's degree in music theater and opera and felt well-prepared for her advanced degree. She performed professionally for a while, but was drawn to teaching and found she fit in perfectly at McAuley, not only as an alumna but because of its Mercy community. She earned a second master's degree in music education in 2005.
"At SXU, I received an outstanding education in the classroom, strengthened my leadership skills, deepened my faith and learned a great deal about service," said Julie.
At Saint Xavier, Tom '01 studied political science and communication. He recalls learning about how current events at the time, like the September 11 tragedy, shaped the present and the future, and he greatly enjoyed the strength in the diversity that Saint Xavier cultivated. After graduating, Tom '01 began working in Democratic politics and interned on Lisa Madigan's first campaign for attorney general in 2002. From 2003-2012, he served as a legislative aide and communications coordinator in the Office of the Speaker of the House. He's also served as the public relations and government affairs director for Chicago State University. Currently, he's the executive director of the Blue Island Park District, where he builds quality programs for the families in the communities and manages and guides a young staff. He remains involved in local and regional elections as a consultant and will soon be moving into a broader role in city planning.
"SXU helps instill a sense of community and an incentive to use your talents in a way that adds value to your surroundings. I believe in a liberal arts education with a focus on the values the Sisters of Mercy are built on helped me a great deal in making choices that reflect those shared values and beliefs," said Tom '01. "SXU has also done an excellent job of adapting to the changing demographics on the South Side of Chicago and has become a true beacon for cultural diversity and opportunity for all."
The Wogan family looks forward to SXU's upwards trajectory, cherishing favorite memories and feeling joyous over the positive changes they've witnessed over the years. Tom '01, the youngest in the family, recalls roaming Saint Xavier's halls as a child while he waited for his mother to be done with work. As a family, the Wogans greatly enjoyed the Presidential Scholarship Celebration, homecoming events and fireworks on the lawn.
"The University has always been focused on student service and success. So many of the changes in advising, first- and second-year support, career development, learning support and the CASA initiatives have increased high-touch services at SXU," said Maureen.
Separately and together at Saint Xavier, they've learned, grown and connected with many cherished friends they still have today. The Wogans are thrilled to be a legacy family and celebrate 175 years of rich history with Saint Xavier.
"SXU is a vital institution in the region and beyond," said Tom '01.
"Keep the legacy alive. You're a huge part of the Southwest Side of Chicago!" added Tom '85.
"SXU has been a home to me, my husband and my children for over 40 years. We have been privileged to be part of a community that has given all of us an outstanding education and has prepared us for our careers. All three of my children have chosen careers in service, which I believe was directly impacted by their education at SXU," said Maureen. "Catherine McAuley said, 'we should be shining lamps, giving light to all around us.' SXU has been a shining lamp to my family, the community and so many students over the years. Congratulations to SXU and thank you to all who continue to give light."
---