SXU - A Family Tradition: The Wood Family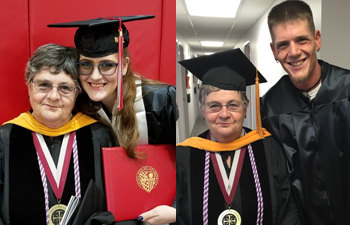 In celebration of 175 years of Mercy education, our Legacy Family series honors the generations of families committed to advancing the SXU mission.
Saint Xavier University (SXU) legacy alumni family Karen '76, Keith '15 and Moira '17 Wood call SXU their home away from home and consider it part of their family identity.
Karen, who earned her undergraduate degree in nursing at SXU, has been teaching at the University since 1983 and spent 45 years working in critical care as a bedside nurse. Karen has always wanted to be a nurse, initially starting her journey as a candy striper. She has received the Excellence in Teaching Award, Excellence in Clinical Practice Award from Sigma Theta Tau and Spirit of Saint Xavier Award. She's served as president of the National Alumni Board and remains a member. She's also very involved in her field, having served as part of the Association of Critical Care Nurses, a regional coordinator for the Mayo Clinic Heart Institute series of conferences and a regional speaker for the American Heart Association.
Moira, who's always been fascinated by human behavior, knew she wanted to study psychology when starting at Saint Xavier. She'd initially planned to go to law school, but after hearing one of her psychology professors talk about how much she was able to help her clients, she redirected her career aspirations. She is currently in a master's program for clinical mental health counseling at Adler University and has been working in the mental health field for the past three years as a behavior specialist, primarily working with mood disorders, trauma, eating disorders and substance abuse.
Keith majored in clinical psychology at SXU and graduated in fall 2015. Since graduating, he's obtained his master's degree in vocational rehabilitation counseling from Adler University and has been working at Jesse Brown Veterans Affairs Medical Center since 2019, having previously served in the United States Army. Since his father was a psych nurse and after spending some time with psychiatric patients while working as an ER technician at Palos Community Hospital, he was drawn to study psychology.
The three agree that their time at SXU significantly helped prepare them for their futures, both academically and personally.
"I got an excellent education and excellent foundation in nursing at Saint Xavier. It prepared me to be able to help people the way I wanted to and set me up for success in graduate school. The Mercy mission has always been a part of who I am, and the liberal arts part of my education allowed me to get a different perspective on people so that I could see the humanity and similarities in them, making it very easy to be of service to them," said Karen.
"The psychology program at SXU was absolutely fantastic. Mom and Dad graced us with the Mercy values even if we didn't realize that. Seeing how they looked at the world and wanted to help people inspired me to do the same. Both Keith and I went into graduate school focused on helping people, based on foundations given to us by our parents and Saint Xavier," said Moira.
"Growing up, we were given the strong foundation the Sisters of Mercy were built on. We've always been compassionate to others," added Keith.
All three were involved on campus as both students and alumni. Karen was one of the founding members of the Student Nurses Association (SNA) that is still on campus to this day. She was also involved in blood drives, the senior picnic and more. Moira participated in the Gay Straight Alliance and the psychology club, and Keith was involved with the Student Veterans Alliance (SVA) and helped out around the nursing lab.
Perhaps most special about the Woods's time at Saint Xavier include their fond memories of the late Phillip Wood '77, husband to Karen and father to Moira, Keith, and their siblings. As a fellow alumnus of Saint Xavier, Phillip was involved in student government and helped start the male student nurses association. He served as National Alumni Board president for two years and was a dedicated member for multiple years, and he was also the 1998 Sister Dorothy Marie Peschon Award recipient, given to SXU graduates whose lives are marked by service and compassion.
The family recalls spending lots of time at SXU Cougar football games, Homecoming tailgates and basketball games, and graduation for Keith was very special since Karen got to hand him his diploma. All three plan to remain a part of SXU through alumni planning and events, and they look forward to continuing to make memories.
"Saint Xavier to me is more than a job and education. It means family. It's my second home. Being part of the history gives a deeper meaning to everything I do, as a nurse and a teacher. It gives us part of our identity as a family," said Karen.
---