SXU - A Family Tradition: Cynthia Zane and Srikant Rao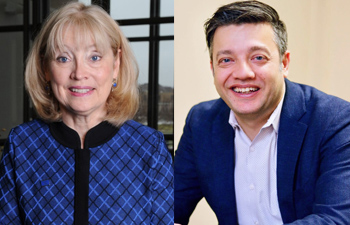 In celebration of 175 years of Mercy education, our Legacy Families series honors the generations of families committed to advancing the SXU mission.
Saint Xavier University alumna Cynthia Zane '78 and her son, Srikant (Sri) Rao '94, have found a home at Saint Xavier for more than 40 years. They've witnessed much of the University's evolvement and have been part of some of the institution's most innovative initiatives, and in reflecting on their time at and connection to the University, the two also look forward to Saint Xavier's future.
Zane has a long list of accomplishments under her belt, having earned a master's in nursing in 1979 from Rush University and a doctorate in education in 1988 from Northern Illinois University. She began her career as a nursing faculty member at Saint Xavier in 1979 and continued to teach there until 1991. While a faculty member, she was also an assistant dean and the director of Continuing Studies. Since then, she has been a dean for multiple schools of nursing, a chief academic officer, dean of faculty and most recently, the president of Hilbert College in New York from 2006 to 2018, where, guided by the Franciscan mission values, she led multiple strategic initiatives during her leadership.
Rao, who majored in accounting during his undergraduate career, spent the first seven years of his professional career in the commercial finance industry. In 2001, he decided to pursue his passion and made a career change to the hospitality industry, where he earned multiple certifications for specializations in wine and spirits. In 2018, he made a foray into environmental activism and led the Stop Sterigenics movement, successfully dislodging major pollution from ethylene oxide emissions in his community, for which he received a commendation from DuPage County.
For both Zane and Rao, their separate but unique journeys started at Saint Xavier. In 1976, Zane's family moved to Tinley Park. When Sri and his brother, Jai, were old enough to attend a half-day of school, Zane applied to and was accepted into two nursing programs, but she struggled with the logistics of her commute and child care. A friend told Zane about Saint Xavier, and she learned they were launching a new RN to BSN program in the fall. During her campus visit, she discovered that Saint Xavier offered child care to students and employees, and Zane's 42-year journey in Catholic higher education began.
"The Sisters' commitment to women and children made all the difference in our lives. Without child care, I don't know if I would have ever earned my degree," said Zane. "Saint Xavier was on the cutting edge of the best ways to educate professional nurses very early on, led by Sister Annette Walsh. There were nine of us in this pilot group for the new program. One of the really true assets of the nursing program is the commitment to students having a clinical experience early on. Also, my professors introduced me to the study of liberal arts for the first time in my life. They were brilliant, master teachers and became my role models."
Rao jokes about being the longest-tenured student to attend Saint Xavier, since he began with his daycare group in 1976 and spent plenty of time on campus in the library throughout grade school and high school while Zane taught as nursing faculty.
"One of the benefits of being a legacy student is knowing where everything is, who the people are and how to get things done," said Rao. "SXU was my home for nearly 18 years. Most, if not all, of my childhood memories revolve around the campus, and I was there for many of the changes. I am still amazed every time I visit at the way the campus continues to evolve."
Years after completing her doctorate, Zane served as the director of undergraduate nursing programs and led the design of the RN to MSN program at Saint Xavier in 1983. During her time at Saint Xavier as a faculty member and dean, Zane worked hard on multiple initiatives to ensure student success. When she and other nursing faculty recognized the disparity within the NCLEX pass rates for students of color, they applied for a grant to set up a special support system for students.
"It was such a joy to be a faculty member. At Saint Xavier, faculty just have that targeted, caring approach and critical support systems have been in place for 175 years," said Zane.
Rao appreciated such support systems, many of which he took advantage of before he was even an official student at Saint Xavier, often receiving assistance from the librarians when it came to research he was doing for his high school courses. Though he was initially undecided on a major when he first started at Saint Xavier, he is pleased that he pursued an accounting degree, as it has been helpful in every position and industry he's worked in.
"Accounting is the language of business and has helped me be successful in each of the different industries I've worked in. From managing financial covenants to planning a menu or writing a wine list, being able to read and understand the books has provided me a tremendous advantage. I encourage current students to be present and enjoy their time at the University. It is precious and you will never forget it," said Rao.
While at SXU, Rao played for the soccer team, hosted a radio show on WXAV and was a member of the International Student Union. He also volunteered to work at many campus events, including a Buddy Guy concert in McGuire Hall.
"The radio station started in a closet. When I first started, it was only broadcast to the school, but then it started to move to the local community. I also participated in food banks and soup kitchens with the International Student Union, and we'd do basic health screenings for seniors in Beverly and the surrounding areas," said Rao.
"The Sisters were always teaching these kids to be part of the community and make a difference," added Zane.
Some of their fondest memories at Saint Xavier are those with each other. Rao remembers having to attend Sigma Theta Tau events (especially the ones where he got to hear the Sisters sing opera and play the harpsichord) with Zane, and Zane remembers having lunch with her sons in between classes. Armed with loads of meaningful memories, Zane and Rao are perhaps most grateful for the liberal arts education they received at Saint Xavier, which they found to be a truly holistic experience.
"Critical thinking skills can be applied to anything I've done, whether speaking, analyzing data or looking at things in a historical context. I use those skills to this day and teach them to my children," said Rao.
"The Sisters would play classical music for students all the time and introduced them to performing arts and culture. The classes I took were so energizing and intriguing, especially the ones on religion and philosophy, which really challenged me and influenced me in amazing ways," added Zane. "Everything at Saint Xavier was focused on how students could be successful."
Zane also served as a member of the Board of Trustees for the Conference for Mercy Higher Education from 2008 to 2014. Currently, she resides in Naples, where she volunteers with two organizations. She serves as a mentor for the Tutor Corps program at the Guadalupe Center, a non-profit organization that creates possibilities through education for students of Immokalee, Florida. She also serves on the grant review committee for Champions of Learning, a foundation in Collier County that supports teachers and the successful transition of students from high school to college.
Rao is the market manager of Illinois for Edrington Americas, a company known for its exceptional spirits and owned by one of the largest charitable trusts in Scotland. Rao finds the position incredibly rewarding since his work goes to helping others.
Rao plans to continue his fight for clean air on a national basis with the Stop Sterigenics movement and will return to lobby in Washington, D.C. once it has been deemed safe. He also plans to run for the Indian Prairie Library Board of Trustees in the April consolidated election. Zane will continue her service work in Naples.
Despite their busy, active lives of giving back, both Zane and Rao know that they will always find a home at Saint Xavier, and they agree that the future is bright.
"I'm looking forward to watching SXU grow even more. There will be many more graduates who will be making a difference in the communities they serve," said Zane. "I'm also thrilled to support the new food pantry. Somehow, SXU has 175 years of identifying what other supports are needed for students to be successful beyond the curriculum, faculty and staff, and it's a joy to see the growth."
"I am extremely proud of and grateful for my time at Saint Xavier, and I can't wait to see what comes next," echoed Rao.
---