SXU's Graham School of Management Partners With CareerSpring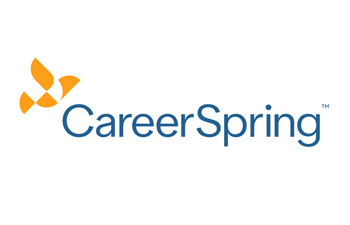 Saint Xavier University's (SXU) Graham School of Management (GSM) has partnered with CareerSpring, a platform made up of individuals and organizations who believe that first-generation college students have the preparation and intellectual capacity, life experience and grit necessary to add significant value to the workforce.
Employers, educators and community organizations involved with CareerSpring work to unlock first-generation student potential and facilitate high-quality employment that enables both individuals and organizations to prosper. Mentors on the platform present career information, provide a forum for career advice, facilitate networking and personal connections, and promote job opportunities and candidate searches.
The partnership gives SXU students and alumni access to free career advising, internships and job placement leads across the United States. CareerSpring is focused on providing career guidance to Pell Grant recipients and first-generation students, so the partnership complements other career tools SXU uses, such as Handshake.
"Because CareerSpring targets Pell Grant recipients and first-generation students, we are able to provide internship and permanent positions to many of our students. Quite often, first-generation students need particular guidance about careers or about working with a particular organization, and this is where a mentor helps," said Mark Rosenbaum, Ph.D., dean of GSM.
SXU's partnership with CareerSpring will roll out among GSM students and alumni since most current job placement offerings are in the accounting and finance sectors. PricewaterhouseCoopers, a multinational professional services network of assurance, tax and consulting firms, is one of the major supporters of CareerSpring and recently awarded GSM a $10,000 grant.
As part of the CareerSpring partnership, GSM students will be able to select mentors from anywhere in the United States, which is especially resourceful for students who are thinking about relocating or want to speak to a mentor involved in a specific accounting niche. Students can even meet long-term social connections via CareerSpring.
"I believe that our focus is aligned with CareerSpring's focus," added Rosenbaum. "Together, both organizations want to help potentially at-risk students find meaningful employment. At Saint Xavier, we help students on an individual level, and at CareerSpring, students can also receive individual mentoring among professionals who are volunteering their time to guide students through the career process. I am delighted to be a part of CareerSpring and help our students obtain meaningful employment."
---