SXU Holds 19th Annual Honors Program Senior Symposium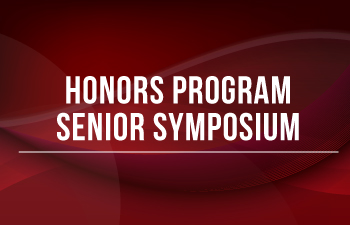 Saint Xavier University (SXU) hosted its 19th Annual Honors Program Senior Symposium virtually on April 24. Each year, the symposium showcases independent research conducted by Honors seniors for their capstone projects. Students research under the direction of a faculty mentor and the senior project coordinator, Kathleen Alaimo, Ph.D. This year's projects addressed research across a variety of academic disciplines, including biology, chemistry, international studies, nursing, political science and psychology.
The Honors Program, designed to nurture future leaders and support students' disciplines and ideas through a thematic curriculum and student-faculty collaborative research, is directed by Julia Wiester, Ph.D., and the capstone projects were supervised by Alaimo.
Throughout their senior year, students conducted in-depth scholarly research, often supplemented by laboratory research and survey research, with each student authoring a substantial research paper that reflects the disciplinary standards of their field of study. At the symposium, students presented their research and engaged in scholarly discussions with the audience.
"Each of the projects presented by the Honors scholars exemplified the mission of SXU and our Honors Program. Although the projects were rooted in the students' major fields of study, they also had an interdisciplinary aspect to the research, showing how students integrate the knowledge from other courses into their learning – a hallmark of a liberal arts and Honors education. I am so proud of the students and their extraordinary work – I can't wait to see the great things they do next!" said Wiester.
"Honors students work hard to articulate the significance of the research itself - for both specialists and generalists. One of the biggest achievements is their success in communicating to others why their research matters, and this is why we conclude the year with a symposium that is open to the University community," said Alaimo. "By the end of the year, the Honors scholars are amazed at how far they have come, how much they have grown and how hard they have worked. Some produce original research findings, worthy of publication. Most produce research that is interdisciplinary in substance or implications. All produce a project that is the capstone of their academic life at SXU."
Studies in the Natural Sciences
Honors Scholar: Jessica Flores
Project: The Science in Curanderismo: Extraction and Enzyme Assay of Medicinal Plants H. inuloides, V. thapsus, & M. chamomilla
Mentored by chemistry professor Sharada Buddha, Ph.D. and history professor Amanda Lopez, Ph.D., Flores, a biology pre-health major, chose her topic of study based on her family and community experiences with curanderismo and a scientific impulse to investigate the science behind alternative medicine. After graduation, Flores plans to enroll in a graduate physician assistant program and work in pediatrics.
Honors Scholar: Alejandro Jimenez-Baeza
Project: Identification of Rhodopseudomonas isolate in Sarracenia purpurea pitchers: Evaluation of role in nitrogen economy of the pitcher inquiline community
Mentored by Liane Cochran-Stafira, Ph.D., biology professor, Jimenez-Baeza, a biology pre-health major, pursued his topic of study because of his fascination with microbiology. After graduation, he plans to study for the MCAT, shadow in the medical field, conduct lab research and continue to be engaged in volunteer work, especially around food insecurity.
Honors Scholar: Sarah Kaley
Project: Examination of C-Fos Activity in the Brain of Male RedSided Garter Snakes Following Exposure to the Female Pheromone
Mentored by biology professor Randolph Krohmer, Ph.D., Kaley, a biology pre-health major, was interested in understanding C-Fos as an early immediate gene and neurological signaling. A recipient of SXU's Excellence in Biological Research Award, Kaley plans to pursue a medical degree after graduation.
Honors Scholar: Erica Rojas
Project: mRNA Vaccines: Will the COVID-19 Pandemic Revolutionize Future Rapid Developments?
Rojas, a biology pre-health major, was mentored by chemistry professor and College of Arts and Sciences dean Bindhu Alappat, Ph.D. Rojas chose her topic of study based on current events, a personal interest in mRNA vaccines and a desire to link basic scientific research with medical applications. She plans to take the MCAT and attend medical school after graduation.
Michael Kaminski: Gold Nanoparticles: Synthesis, Stabilization, and Catalytic Activity for Reduction Reactions
Kaminski, a chemistry major, was mentored by Wiester, who motivated him to pursue his research on nanoparticles. Kaminski is currently employed at the Medical Assay Laboratory and plans to enroll in graduate school.
Studies in Human Behavior and Society
Honors Scholar: Stephani Fabular
Project: Preparing Undergraduate Nursing Students to Provide End of Life Care: The Impact of the End of Life Simulation Experience
Mentored by Mary Tiberg, Ph.D., Fabular, a nursing major, chose her topic of study because she believes effective patient-centered care at end of life is a vital skill set for nursing students. A recipient of the Dr. Agnes Polous Outstanding Undergraduate Nursing Student Award for 2021, she will join the ICU at Advocate Christ Medical Center after graduation.
Honors Scholar: Brigid Truty
Project: Code-Switching and Bilingual Autobiographical Memory
Truty, a psychology major, was mentored by Carissa Broadbridge, Ph.D. Truty's project is directly related to her work as a certified professional coder (CPC) and membership in the American Association of Professional Coders. After graduation, Truty plans to pursue a doctorate degree.
Honors Scholar: Lauren Banicki
Project: More Than Skin Deep? Skin Tone and Perceptions of Attractiveness and Health
A psychology major, Banicki, mentored by Angela Pirlott, Ph.D., chose her research topic after reading about how skin tone appears to be a salient marker of beauty for women of color and sought to learn more about skin tone preferences and their implications. A recipient of the Mamie Phipps Clark Research Grant and Margaret Messer Student Research Grant, Banicki plans to pursue a graduate degree in psychology.
Honors Scholar: Yasmine Zavala
Project: Feminicide in Latin America: Gendering the Underlying Political, Judicial, and Economic Factors in Honduras, Mexico, and Peru
Recipient of the symposium's 2021 Outstanding Honors Senior Project Award, Zavala is a double-major in political science and international studies. Mentored by Matthew Costello, Ph.D., she decided to research feminicide as a structural problem in Latin America to challenge the mainstream media's portrayal of feminicides as isolated, albeit tragic, incidents.
The Honors Program prepares students to engage with the world's challenges in a more flexible, imaginative way, skills well-represented by the caliber of this year's projects. Saint Xavier is incredibly proud of their innovation and drive and looks forward to their continual success!
---