SXU Holds Annual Southside Summer Jazz Camp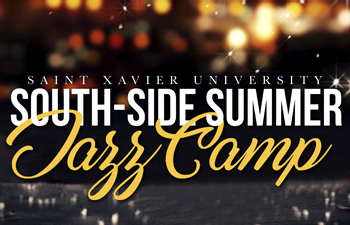 Saint Xavier University (SXU) will host its sixth annual Southside Summer Jazz Camp Monday, July 12 through Friday, July 16 from 3 to 7 p.m. The camp is open to students in sixth grade through 12th grade and provides students with the opportunity to learn from and work with an outstanding group of jazz educators who are dedicated to helping students improve on their musical abilities as section players, improvisers and sight-readers. The camp is open to students of all levels of experience.
Students will work with SXU music faculty, alumni, current students and special guests and will participate in daily rehearsals on jazz repertoire, instrument sectionals, improvisation master-classes, jam sessions, guest concerts and music theories workshops, culminating in a final concert on July 16, where students will showcase their talents.
"The SXU Southside Summer Jazz Camp offers students the opportunity to build on their skills as musicians and improvisers. After a year of virtual teaching, it will be amazing to create music together and all feel and hear the sounds as one," said Shawn Salmon, D.A., director of Jazz Studies.
The health and safety of all remains a priority of the camp. All rehearsal conditions will fully comply with local and state health guidelines. Students will maximize rehearsal time outdoors, but rehearsal rooms will contain HEPA Air filters, sterilizing wipes and other safety precautions.
"Music provides students the ability to create as individuals and collaboratively. It gives them a feeling of accomplishment and pride, teaches the importance of hard work and discipline and allows students to connect with the past while creating music in the present," said Salmon. "During this week, through music, these students will create great friendships, lots of laugher and memories, the important things music brings to us all."
The SXU Southside Summer Jazz Camp welcomes students of all instruments, including trumpet, trombone, saxophone, piano, string bass, guitar, vibraphone and drums. Tuition is $100 per student and includes a T-shirt.
For more information and to register, visit the SXU Southside Summer Jazz Camp web page or contact Dr. Shawn Salmon at salmon@sxu.edu or 773-298-3420.
---