SXU Holds Ribbon Cutting Ceremony for New Nursing Simulation Lab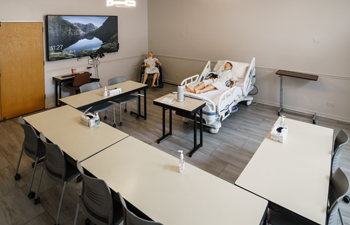 Saint Xavier University (SXU) proudly held a ribbon cutting ceremony on February 4 to celebrate the conversion of the President's Dining Room into a new simulation lab to be used by nursing students. A generous donation to the School of Nursing and Health Sciences (SONHS) made it possible to convert the room into a multipurpose space that will allow students to spread out for their simulation experiences.
Simulation is a critical component of the nursing educational process, as it replicates clinical practices in a safe environment and ultimately enhances patient safety and optimizes outcomes. In the lab, nursing students will sharpen their skills in critical thinking and clinical decision-making in diverse simulated experiences.
"As the demand for frontline health care workers increases, schools and colleges of nursing respond. We have answered that call by increasing the number of students we accept to our undergraduate nursing program. Adding to our extensive simulation laboratories allows larger groups of students to work in simulation," said Gwendolyn George, DNP, APRN, FNP-BC, dean of SONHS. "During the pandemic, having sufficient simulation space and equipment has been critical in allowing our students to progress as planned and join the nursing profession, where their skills are needed. This would not have been possible without the generous donations we received to support our mission of being student-centered, performance-driven, and providers of high-quality education."
The new simulation lab will feature a hospital bed and a VitalSim Laerdal Nursing Anne Manikin, a manikin designed for scenario-based training for the care and management of a wide variety of in-hospital patients. The manikin, which has multiple specifications, is educationally effective for clinical training targeting key skills from basic patient care to advanced nursing needed for in-hospital patient care.
In the simulation lab, students will learn how to take blood pressure and listen to various lung sounds. Four workstations will accommodate students in learning and help them to practice a wide variety of skills at various levels, including IV-tubing priming, wound care and sterile dressing changes. Students will be able to view activities occurring in the simulation lab from other areas on campus to observe and receive reports on their simulated patients.
"With an innovative spirit, our nursing program continues to move forward to meet student learning needs. This additional space will allow more nursing students to receive simulation training vital to their professional development while maintaining safe distance. Our learning community is grateful for the donors who have made this space possible as well as the leadership of our nursing faculty for bringing this project to fruition," said President Laurie M. Joyner, Ph.D.
---