SXU Honors 2020 and 2021 Mission Day Awards Recipients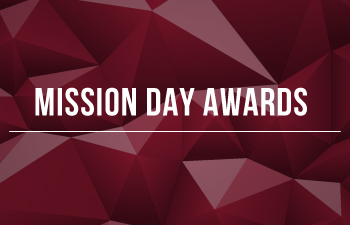 Saint Xavier University (SXU) proudly held the annual Mission Day Awards on March 24 virtually. Each year, the University awards three individuals whose exemplary service embodies the University's mission of service and compassion. Because last year's Mission Day coincided with the height of the COVID-19 pandemic, this year's ceremony honored both the 2020 and 2021 recipients.
"We are so happy to celebrate our mission, our colleagues and students who live out our mission exceptionally," said Jenny DeVivo, awards host and executive director of Mission and Heritage. "In this past year, our mission has been made manifest prominently and we are bursting with examples of community members who live our mission exuberantly. In our proud history of 175 years, we have been inspired by the Sisters of Mercy and teach our students through our own examples of how to be a Mercy presence in the world."
The Mother Paulita Morris, R.S.M., Student Mission Award recognizes a student whose exemplary service and leadership, both at SXU and in other educational, civic and religious communities, have embodied the University's core values and its Catholic, Mercy mission in ways that contribute to making SXU a better place to grow and learn.
Alyssa Aurelio, the 2020 award recipient, is a senior nursing student, Honors Program member and president of the Student Nurses Association. Aurelio has dedicated herself to service, leading multiple fundraisers to support women, children and the environment, participating in many service projects on campus and assisting at homeless shelters. She is a pivotal role model for her peers and an inspiration to the entire Saint Xavier community.
Corina Salas, the 2021 award recipient, is a first-generation student majoring in computer science. She was president of the SXU Association of Latino Professionals for America (ALPFA), which was named Chapter of the Year in 2020. She was also awarded RSO Executive Board Leader of the Year at the Scarlet & Gray Awards. She is the peer minister for Latinx Outreach and Inclusion for Campus Ministry and part of the Student Government Association (SGA). She is passionate about helping Latinx students feel welcome at SXU and helping them get involved on campus, and she is also passionate about helping women of color in getting involved with STEM.
The Sister Isidore Perrigo, R.S.M., Staff Mission Award recognizes a staff member whose service to the University community has embodied the University's core values in ways that contribute to making SXU a better place to study and learn.
Lisa Lyons, the 2020 award recipient, is the founder of the Emerging Scholars Mentoring Program, co-chair of the Illinois Equity in Attainment (ILEA) initiative, advisor to the Black Student Union and coordinator of the Rebound Academic Recovery Program. Lyons is active in her church, her sorority, the Illinois Elementary School Association, the National Pan-Hellenic Council of Chicago and the Black Star Mentoring Project, and she has also participated in on-campus food drives, backpack and school supplies collections, toy drives and more. Most importantly is the extent to which she gives from and with her heart to her students.
Jacqueline Griffin, the 2021 award recipient, has worked in the financial aid industry for 20 years. She is a member of the Illinois Association of Student Financial Aid Administrators. She has served on multiple committees within professional organizations and is part of the Saint Xavier strategic planning committee, an advisor for Emerging Scholars, a Service Excellence committee participant, co-coordinator of the African American Achievement Awards since its inception and an organizer for SXU's celebration of Black History Month. She is known for being able to help students with difficult financial struggles and for her volunteerism, selflessness and care for all of those with whom she interacts. She is dedicated to the University mission and Catholic identity.
The Saint Xavier University Faculty Mission Award, which recognizes a faculty member who, through teaching, scholarship and service, has furthered the mission of the University and who has consistently embodied the University's Catholic and Mercy identity by "serving wisely and compassionately in support of human dignity and the common good."
Bindhu Alappat, Ph.D., 2020 recipient, is the dean of the College of Arts and Sciences and also serves as vice president of Faculty Senate and co-chair of the Strive 2025 strategic plan. In 2018, she was part of securing a National Science Foundation grant of $1.46 million to support underserved students pursing careers in STEM fields. Her leadership is illustrated by her commitment to fairness, integrity and dedication to creating an inclusive environment.
Kathleen Alaimo, Ph.D., the 2021 recipient, is a professor of history who has been at SXU for nearly 30 years. She has served as a dean, department chair, interim provost and more. She is known for advocating for a curriculum that would cultivate students' intellectual skills and help them to apply it within their lives. She focuses on student success and helps students see the practicality of a liberal arts education. She is an advocate for women and children and integrates mission into her research, service activities, leadership responsibilities and committees.
"The Mission Day Awards represent some of our best moments together, when we recognize and celebrate those among us who have distinguished themselves by the quality of their work and the consistency of their service to SXU," said SXU President Laurie M. Joyner, Ph.D.
---