Saint Xavier University Honors 2021-2022 Cuneo Scholars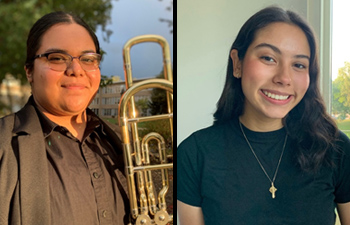 Saint Xavier University (SXU) congratulates Ximena Garcia '22 and Karina Garcia '24 on being named Cuneo Scholars for the 2021-2022 academic year.
Both will receive a $25,000 scholarship through a charitable grant financed by the Cuneo Foundation. Ximena and Karina are both returning Cuneo Scholars, with Ximena receiving the scholarship for the fourth year in a row.
"Ximena and Karina exemplify the tradition of excellence that distinguishes Saint Xavier and fuels its ongoing partnership with the Cuneo Foundation," said SXU President Laurie M. Joyner, Ph.D. "Both display a clear spirit of servant leadership and are motivated by making the world a better place. We are grateful for their ongoing work and for the generosity of the Cuneo Foundation, which continues to support our Mercy mission."
Ximena Garcia is a senior nursing major who aspires to work as a neonatal nurse practitioner. She serves as president of the Saint Xavier Service Club and participates in the SXU Jazz Ensemble, Cougar Service Scholars and the Psi Chi Honor Society. Ximena has accumulated nearly 1,000 volunteer hours throughout Chicago's South Side since her first year at SXU.
"I remain grateful for the Cuneo scholarship, which allows me to focus fully on my degree and volunteer work," said Ximena. "The generosity of the Cuneo Foundation inspires me to continue giving back through service."
Karina Garcia is a sophomore nursing student who serves as the media marketing manager for SXU's UNIDOS student leadership organization. Karina also participates in the Student Success Program (SSP), Student Nurses Association (SNA) and Service Club, and she regularly volunteers in her local parish.
"Support from the Cuneo Foundation will help make my dream of becoming a nurse a reality," said Karina. "I look forward to serving my patients with the same spirit of giving."
---