SXU to Host 175th Anniversary Homecoming Celebration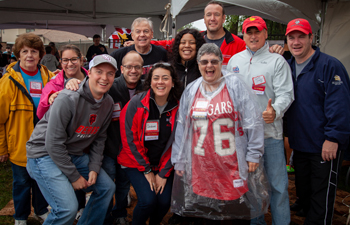 Saint Xavier University (SXU) will kick off a very special Homecoming Week this fall – it's the institution's 175th anniversary! Beginning Monday, September 20, the SXU community will participate in a celebration filled with events and activities for faculty, staff, students, alumni and friends.
Spirit Week will kick off the festivities, and students can show their Cougar pride in a variety of ways, including Pajama Day and Bowling Night at Arena Lanes at 10 p.m. on Monday, September 20. Students can post pictures of their pajama outfits to social media using the hashtag #SXU175 and tag @sxucougars for a chance to win a prize. Transportation for Bowling Night will be provided along with two games and shoes.
Tuesday, September 21 is Tie-Dye Day and Pack the Stands for a women's volleyball game against the University of Saint Francis at 7 p.m. The first 50 students in the stands will receive a giveaway item.
Jersey/Sport Day is Wednesday, September 22, and students can spend the evening in McGuire Hall for Comedy Night at 8 p.m.
The annual Student Leader Commissioning will take place on Thursday, September 23 at 3 p.m., part of a longstanding tradition of honoring University leaders in front of the Warde Academic Center to carry on the legacy of servant leadership.
Spirit Day and the annual Homecoming Bonfire will take place on Friday, September 24 at 8 p.m., where students can enjoy free food, music and giveaways.
"What an honor it is to celebrate SXU's 175th anniversary, especially now that we are back together," said Ashley Jackson, director of Campus Life.
Alumni Relations will host Unveil the Ale on Tuesday, September 21, where alumni and friends can catch up at Horse Thief Hollow for the introduction of "1846," a beer crafted exclusively to commemorate SXU's 175th milestone.
Spirit of Mercy Day will start with a noon Mass at McDonough Chapel on Thursday, September 23, marking 175 years to the day that the Sisters of Mercy arrived in Chicago.
Immediately following Mass will be a reception in the SXU Gallery for the debut of "Into the Light: A Gathering of Religious Artifacts from the Permanent Collection in Celebration of the 175th Anniversary of Saint Xavier University," which will remain on display through October 18.
On Saturday, September 25, come cheer on the Cougars as they take on the University of Saint Francis for a special homecoming football game at noon, a women's soccer game against Holy Cross College at 5 p.m. and a men's soccer game against Holy Cross College at 7:30 p.m., all on Bruce R. Deaton Memorial Field.
Visit the SXU calendar for more information on Homecoming. We can't wait to show our Cougar pride with you on this very momentous occasion!
---