SXU Marketing Student Excels In Multiple Internships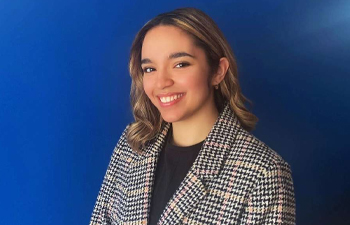 Saint Xavier University (SXU) marketing student Kassandra Torres is balancing two internships, advisory council secretary duties and coursework, all while attending college in the midst of a global pandemic.
Torres, who will graduate next year, originally planned to go to college out of state, but after visiting the SXU campus, she fell in love with the small class sizes, cozy feel of the campus, proximity to downtown, and support and guidance offered to first-generation students.
Torres is a marketing intern for both the Northwest Community Credit Union, an internship she obtained through SXU's Graham School of Management (GSM), and Pink Moss, LLC, a Black-owned health and beauty company. For both companies, Torres tracks media analytics, designs, creates, and manages content and campaigns, monitors trends and collaborates on marketing strategy. Torres was able to grow Pink Moss's follower account to over 1,000 in only two months.
"The internship with the credit union has been so helpful because I have learned about financial literacy, good money habits, building a credit score and applying for a mortgage, all of which I share with my peers," said Torres.
Torres has always been interested in numbers, but she didn't want to commit to accounting or finance. She found herself drawn to marketing because of its balance of analytics and creativity. Though she has found working through the COVID-19 pandemic difficult, she feels that her marketing classes have helped her to excel in her internships and are helping to prepare her to excel in the future.
"I am overwhelmed with all of the options I will have. My classes have done a great job in preparing me for how to network and approach situations. There's a great balance of learning important content that comes from our textbooks and learning how to talk to people, to get to know their experiences. I love that my professors have industry experience too," said Torres.
Torres's role as the secretary for GSM's Student Advisory Council involves tracking meeting minutes, handling communication and engaging in discussion about course improvements. She's helped to make changes in GSM's physical space and has taken part in curriculum suggestions. Torres has also participated in SXU's UNIDOS, a student leadership organization that encourages the appreciation, promotion and preservation of the Latin American culture.
Torres is grateful for her peers and mentors, especially GSM professor Darrell Parks, who taught her about diversity in organizations, and her incredibly helpful advisor Nicholas Mancari, director of business education, programming and engagement.
"I have had the pleasure of working with Kassandra throughout her time at SXU. She is such a hard worker and has strived academically both in our digital marketing program and outside of the classroom. We have heard nothing but high praise for her hard work ethic," said Mancari. "She makes our reputation within the business community strong and valuable. Kassandra will be a trailblazer in the digital marketing industry following graduation and we are so proud of her!"
In her free time, Torres likes to do Aztec dancing in the Pilsen and Little Village neighborhoods and volunteer, having previously served as an instructor for After School Matters. In the future, she hopes to continue to study marketing in graduate school and would like to work in marketing for a health and beauty business.
---