SXU's MSMS Program Marks Significant Growth in First Year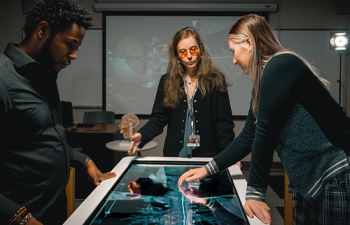 Saint Xavier University's (SXU) Master of Science in Medical Sciences (MSMS) program will begin its second year this fall, and the program has grown significantly. Within less than two years of existence, the program has had a 250% growth, a major accomplishment on its own but almost Herculean in the midst of a global pandemic!
The program, which includes courses in anatomy, biochemistry, histology, microbiology, neuroscience, physiology and ethics, gives students a significant advantage in their continuing medical education or medical career pursuits and enhances the possibility of being accepted into a medical, veterinary, dental or optometry program by demonstrating added competence in the required sciences.
Within the MSMS program, students have a dynamic classroom model and access to proprietary analytics that help predict their likelihood for success upon entry into medical school. Students are monitored with state-of-the-art assessments to gauge their progress throughout their entire time in the program and are also provided with professional development, which assists them with personal statements, elevator speeches and curriculum vitae.
"This is a high-impact program that mirrors the first-year medical school curriculum, so students are being prepared to enter their first year and be successful. Our focus on personal development, paired with our commitment to ensuring that all MSMS students have the tools necessary to handle the mental challenges faced in medical school is a standout aspect of the program at SXU," said Tatiana Tatum, Ph.D., director of the MSMS program.
Students can take advantage of numerous memorandums of understanding with institutions such as A.T. Still, Lake Erie College of Osteopathic Medicine, American University of the Caribbean, American University of Antigua, Palmer College of Chiropractic, Keck Graduate Institute and more, which secure medical school interviews for students and have associated scholarships.
Though the first graduating cohort is still in the application cycle, one student is currently waitlisted for a physician assistant program, and in another cohort, one student has already been accepted to two medical schools before even graduating, while another is on the waitlist for two programs. All other students have completed the program with a clearer vision of the direction they intend to head in their health science careers.
"The MSMS program at SXU was very valuable and prepared me for both the material and the commitment required for medical school. When the pandemic required a rapid transition to a fully virtual classroom, I was pushed to learn how to manage adversity and utilize resources, which enabled my confidence. The MSMS program was an essential tool that will assist with my success in medical school," said Lily Bahmanyar '20, who completed the program in 2020.
In the future, through SXU's partnership with Tiber Health Innovation, Tatum hopes to provide students with more opportunities for placement or linkage to other advanced medical programs and pathways.
For more information about the MSMS program, contact the Office of Graduate Admission at 773-298-3053 or graduateadmissionFREESXU.
---