SXU Music Alum Receives Rave Reviews on Debut Album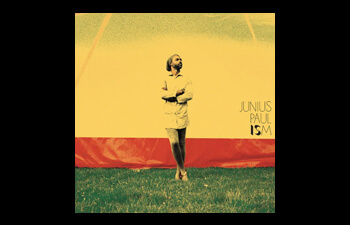 Saint Xavier University (SXU) music alum Junius Paul '05 released his debut album, "Ism"" in 2019 and has received stellar reviews and continues to make waves throughout the music industry. A bassist, composer and bandleader, Paul is quickly becoming one of the most sought-after jazz artists, and his musical journey has taken him all over the world.
Paul released "Ism" in 2019, and the album received resounding critical acclaim, including a four-star review and best album designation in Downbeat, an American magazine that's been in print since 1934 and is devoted to jazz, blues and beyond. Downbeat also named him one of 25 performers who could help shape jazz for the next decade. In 2020, Paul was awarded a prestigious grant from 3Arts, a Chicago-based organization that advocates for women artists, artists of color and artists with disabilities and provides awards and funding to help artists experiment and build momentum in their careers.
After graduating from SXU, Paul began touring and performing with some of the most recognized musical artists, including the Art Ensemble of Chicago, Roscoe Mitchell, Makaya McCraven, KRS-One and many more. Paul mostly traveled internationally with groups until about five years ago when he began touring regularly.
"I've been fortunate to be involved in a variety of musical situations, which taught me a lot. 'Ism' has been met with a lot of love. It was actually something that was born of Makaya McCraven. We started recording together and he would separate my bass lines and say that I had these 'isms' – 'Junius Paul-isms,' and that's how that came about," said Paul.
Paul says his creative process is a natural process. "Ism" took about three years to create, and Paul, who tends to do his work spontaneously, believes the work is the sum of the influences in his life.
"When the recordings were done and I listened back, I realized that it sounded like my story. It sounded like whatever I've learned and whatever experiences have been placed upon me."
Paul believes that Saint Xavier hugely influenced his development, and he enjoyed both the excellent learning environment in his classrooms and the peers he developed friendships with, many of whom he still keeps in touch with to this day.
"I was blessed to have really great professors and incredible instruction. I was able to combine what I was learning in school with what I was learning on gigs and really immersed myself in the music," said Paul. "I learned so many different concepts about harmony. SXU helped me to dissect all the things I was hearing and make it all make sense."
Paul had many different mentors during his time at SXU and counts professors Greg Coutts, Ph.D., Jan Bickel, DMA, Martha Morris and Patricia Lee among some of his biggest influences, and the experiences and memories he had at SXU continue to shape his life today.
"My favorite memory is from junior year when I was in the concert band and we were performing 'Rhapsody in Blue.' The featured soloist was Professor Patricia Lee, who taught applied piano and was one of my favorite professors. I never heard her play like that before, and to hear her play that as the featured soloist just blew my mind. It was performed flawlessly and with so much feeling. Experiencing that level of artistry up close like that is something that has always stuck with me," said Paul.
"I have fond memories of Junius playing in my Baroque music ensemble. He played the bass parts in Bach with the same joy and gusto that he exhibits in his jazz playing, and we had some wonderful discussions about the similarities between Baroque improvisation and jazz. He was always a true talent, and a pleasure to work with," said Lee.
"Junius remains very humble even though he has attained great heights in the Chicago jazz scene and internationally. Junius has always been willing to give back to his alma mater and continues to encourage new generations of jazz performers and educators," added Coutts. "Junius has perfect pitch. He exhibited great talent in college and continues to develop his craft. I look forward to what he will accomplish in the future. Junius was the type of student every professor dreams of -- talented, hard-working and eager to learn."
Paul encourages current SXU students to practice and find ways to stay motivated. Though the pandemic has shifted emotions and drive, he believes that it is the responsibility of musicians to reflect current times and try to find flickers of inspiration, which will often end up inspiring someone else.
"Continue to find motivation in the best ways you can and continue to study. Take what you learn here and apply those concepts to not only what you've already learned, but to your future learning experiences," said Paul.
As Paul looks to the future, he plans to continue working on music and hopes to put another album out soon. He continues to work on writing and recording, working on projects with other musicians and preparing to go live again when it is safe to do so. Despite his newfound fame, Paul will always have time to return to and find a home at SXU.
"Being named in Downbeat – well, I'm the kid from Saint Xavier. It speaks a lot to the school, to the instruction I had there and the amazing experience I had there. The magnitude of what the Music Department means to me is incredible," said Paul. "Saint Xavier is a community of people, a family. The music students they put out into the world are doing incredible things."
To learn more about Paul, check out his video interview with the SXU Music Department.
---