SXU Music Alums Partner to Direct High School Bands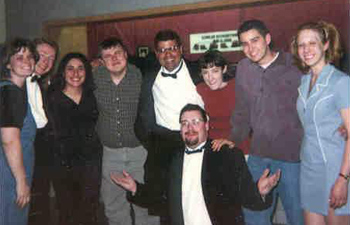 Saint Xavier University (SXU) music education alums Richard Daily '99 and Edward Miller '00 are working together toward one goal: giving their students an enriching musical experience that will shape their lives for years to come. The two attended Saint Xavier together and now teach together as band directors at Thomas Kelly College Prep in Chicago.
Miller has been working at the high school for 21 years, and Daily joined him in 2006 after earning a master's degree in music and instrumental conducting from the University of Kansas and spending some time teaching at a private school. As band directors, Daily and Miller, who also work with a third band director, Mike McCain, oversee rehearsals and performances, help students develop musical skills and prepare students for traveling performances.
Both Daily and Miller are passionate about teaching and have known for years that they wanted to be active participants in the field of education. Their class sizes range from 54 students to 107 students, and they are very busy working to get students scholarship-ready for college.
"Music is the only thing since high school that I've been interested in. I've had mentors and teachers that have helped me grow as a musician, and it is wonderful to be able to share those experiences and that knowledge with students," said Daily.
"I remember growing up, my siblings and I would play school. I was the oldest, so I was always the teacher. I've always envisioned myself growing up to be a teacher. I couldn't imagine doing anything else," said Miller.
Like many other teachers, Daily and Miller are focused on rebuilding what the program has lost due to the COVID-19 pandemic. The two estimate that it is going to take up to two years to be able to make up for not being able to teach in person. They are diligently working on plans to develop relationships with and recruit students. Despite the challenges the pandemic has posed, Daily and Miller feel certain every day that teaching is their calling.
"My favorite thing about teaching is giving these kids experiences they wouldn't ordinarily have. We're some of the only teachers that these students will see over a full four years, and many times, we meet them with little music experience and take them from there up to their senior year, where they're playing in competitions," said Daily. "Plus, it's still fun. The kids feed off our chemistry – our personalities, approach and expertise. We are really fortunate to work with great kids and colleagues."
"My favorite thing about teaching is seeing the students grow not only as musicians, but as people. Watching them develop from scared, young freshmen to outgoing leaders over the course of four years is wonderful to see," said Miller, who is affectionately nicknamed the "Teddy Bear" of the band directors. "Seeing a kid 'get it' and really understand a musical concept makes me smile every time. It gives me chills. I'm starting my 22nd year as a teacher, and I still love going to work every day."
Both Daily and Miller enjoyed their time at SXU, citing their favorite thing as being able to build lifelong friendships out of the small class size experience. They also kept busy, with Miller working in Media Services and both participating in multiple music ensembles. They were quite fond of many of their professors, including Jan Bickel, D.M.A., Martha Morris and Greg Coutts Ph.D., and they each had a special, influential relationship with retired professor Donald Lovejoy, Ph.D.
"My time at SXU really solidified that teaching music was what I wanted to do. Being around the faculty and small pool of like-minded students showed me that music education was what I wanted to do for the rest of my life," said Daily.
"My father died my sophomore year, so I truly credit all the professors in the Music Department at that time for helping me get through my sophomore year. All the professors were wonderful people and really cared about us. Don was literally my dad for two years. He's such a good man and the reason I went to Saint Xavier," said Miller.
Daily and Miller encourage current SXU students interested in music education to stick with it. Though they believe the program is rigorous and tough, they also find it very rewarding and enjoyable.
"As with any career, there is trial and error. A lot of personal reflection goes into becoming a music teacher. It's really a double major – you have to sharpen your proficiency in musical concepts and then develop skills in the psychology and sociology of teaching, learning to work with students and develop your own teaching style," said Daily.
Though Daily and Miller look forward to things like traveling, their immediate future focus will be on rebuilding their program, as many students haven't even touched an instrument because of the pandemic. Though they know they have a long road ahead of them, it is all worth it to them to be able to touch students' lives and influence their dreams.
"Watching these kids develop is very rewarding," said Miller. "We're working extremely hard and putting out great results to the community, results that match those of suburban music departments."
"We are helping kids that may not be the best academically or may not be the most athletic. We are helping a population of students find their place to fit in and develop skills and interests they may not have known they had," added Daily. "We give them a place to belong so they may develop their work ethic and prepare for college, careers and life."
---