SXU Named a 2021 Military Friendly® School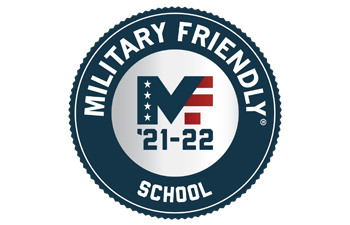 Saint Xavier University (SXU) has been named a 2021-2022 Military Friendly® School by Military Friendly® for the second year in a row! Military Friendly® is an organization whose standard measures, investigates and identifies institutions whose commitment to serving the military and veteran community creates sustainable and meaningful opportunities for them.
"I am grateful for the work of various departments across the University that assist our military-connected students. I am proud of the work we do, especially when we had to transition to remote operations during COVID-19. We were able to continue to provide the best services to our students. It is part of what I love about my job -- working with dedicated individuals that I count on every day that have played a part in earning this prestigious designation," said Gricelda Gonzalez, veteran compliance officer for SXU.
Saint Xavier is committed to serving veterans and assisting with their transition to college. Veteran students are provided with resources to help them achieve their educational goals. SXU is also a proud participant of the Yellow Ribbon GI Education Enhancement Program, which helps to fund qualified student veterans' tuition expenses.
The SXU Student Veteran Alliance (SVA) advocates and assists SXU student veterans and their families by promoting camaraderie through community outreach and social support and by committing to academic and professional success. SVA holds regular meetings and hosts events, including bake sales, toy drives and an annual veterans' breakfast on Veterans Day, for SXU student veterans, as well as all supporters of veterans.
"I'm currently attending SXU under the Yellow Ribbon program, and the tuition benefits have helped immensely. Having a veteran compliance officer helps tremendously because she's helped make the transition from military life to civilian student status smooth," said Karmalitah Sylvester, president of SVA, nursing major and former U.S. Marine Corps veteran. "I also love SXU's Veteran Alliance. It's a great organization because you get the support of other people like you and you get to network and volunteer. My time and the resources I've received here have helped improve the quality of my life."
Enrique Flores, a Veteran Admission work-study student, added, "This designation highlights that our institution has the resources, patience, guidance and understanding student veterans need to be successful. I am proud to go to a school that has received a Military Friendly® designation. I know the struggle of transitioning out of the service, but knowing my fellow veterans will be taken care of when coming to this school is something I truly appreciate."
In 2018, SVA broke ground near Lake Marion for a Veterans Memorial site, which serves to honor and acknowledge those who have served the United States in both periods of war and peace. The University student-run radio station WXAV 88.3FM was awarded for its critically acclaimed series "Veteran Matters," a radio production based on interviews with veterans of different wars, comparing and contrasting their experiences of military service.
In 2020, SXU's National Alumni Board of Directors launched the Valor Project, a new program designed to support student veterans and their dependents. The program's funding helps student veterans to be successful by providing financial support for books, supplies, transportation costs or assistance for emergency situations.
SXU is grateful for the many contributions of its student veterans, from their sacrifices to their scholastic successes.
To learn more about SXU's commitment to serving student veterans, resources and programs, and admission and support services, contact Veteran Admission at 773-298-3502 or vets@sxu.edu.
About Military Friendly® Schools
The 2021-2022 Military Friendly® Schools list is prestigious, comprehensive in scope and assessed through evaluation of both public data about the institution and proprietary data gathered through surveys. Based on extensive research, the methodology, criteria and weightings for the survey are high standard and assess the institution's ability to meet thresholds for student retention, graduation, job placement, loan repayment and loan default rates for veteran students.
About VIQTORY
Military Friendly® is owned and operated by VIQTORY, a service-disabled, veteran-owned small business that connects the military community to civilian employment and educational and entrepreneurial opportunities.
---