/
/
/
SXU Nursing Professor Honored on Illinois Nurses Foundation's 40 Under Forty
SXU Nursing Professor Honored on Illinois Nurses Foundation's 40 Under Forty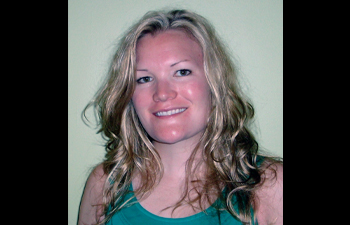 Saint Xavier University (SXU) nursing professor Katie Soso, MSN, RN, CPSN-R, CNE, ISPAN-F, has been named to the Illinois Nurses Foundation's 40 Under Forty list. The list recognizes those who make a difference in the profession and their communities and celebrates young nurse leaders who are impacting and shaping the future of the nursing profession. Honorees of the 40 Under Forty list will be celebrated at a virtual event on Thursday, September 23.
Soso's nomination included a description of her efforts to lead the Clinical Practice Committee for the International Society of Plastic and Aesthetic Nurses (ISPAN) and to spearhead the revisions to the scope and standards of practice document for the specialty of plastic and aesthetic nursing. It also detailed her efforts to help grow the Academic Success Coaching Program for nursing students at SXU and her key role in the launch of the revised nursing curriculum in fall 2019.
"I'm honored to be included in the list. If I want to be proud of my profession, then I need to contribute positively to it and encourage others to do so as well," said Soso.
Soso was interested in starting a career in nursing because it presented an opportunity to engage in lifelong learning, work as a member of a team and serve others in a variety of settings. She is passionate about embracing opportunities to use her knowledge and skills to empower others, whether they are her patients or nursing students.
Soso, who has been a full-time faculty member at SXU since spring 2018, earned her BSN at Saint Xavier and her MSN at Benedictine University.
"The nursing program at SXU is very well-reputed, and I have always been proud to identify as an alumna. I want to perpetuate the reputation for excellence and contribute positively to my alma mater; being offered the opportunity to not only join the faculty, but to also work as an academic success coach for the nursing program has allowed me to achieve those goals," said Soso.
In her classroom, Soso implements evidence-based teaching practices on a daily basis, as research shows that students learn better and retain knowledge longer when they engage in active learning. Soso incorporates active learning and technology, including gaming, case studies group discussion and concept mapping into her classes.
"Nursing students can't just learn content for one exam and then forget it; they need to recall the information so they can build on it for the next class in the curriculum, for the NCLEX and for providing care to actual patients. I try to make learning fun and use class time to assist students with practicing application of content. For example, we watched an episode of 'Schitt's Creek' in a holistic assessment course this summer and practiced conducting an assessment of the family and community," said Soso.
As Saint Xavier celebrates 175 years this year, Soso feels lucky to be carrying on the legacy and appreciates the opportunity to pay it forward with current nursing students. She is thankful for the encouragement and support of her nursing instructors, many of whom are still at SXU.
In the future, Soso hopes to continue her work with ISPAN, as she is passionate about defining and protecting the specialty of plastic and aesthetic nursing. She also hopes to grow the Academic Success Coaching Program in nursing, which empowers at-risk students and promotes their retention.
---