SXU Nursing Student Completes Research Project on End of Life Care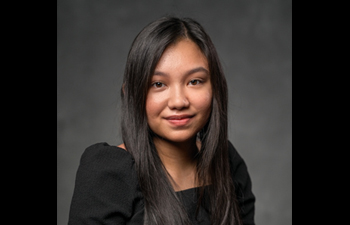 Saint Xavier University (SXU) 2021 nursing graduate Stephani Fabular recently completed an important project for the annual Research Expo and the annual Honors Program Senior Symposium, one that is focused on improving education for nursing students. Fabular's project, "Preparing Undergraduate Nursing Students to Provide End of Life Care: The Impact of End of Life Simulation Experiences," explored SXU nursing students' learning experiences with the University's simulation lab and examined how the simulation exercises shaped students' perceptions as they provide care to patients at the end of life.
For her project, Fabular, who was mentored by Mary Tiberg, Ph.D., nursing professor, conducted an IRB-approved qualitative study and completed individual, audio-recorded and transcribed phone interviews with 10 study participants, using an IRB-approved questionnaire as a guide to help structure the interviews. Results revealed that while learning in the simulation setting improved perceptions and preparation of nursing students for end of life care, there are also limitations, resulting in possible under-preparedness.
"I was interested in this topic because end of life care is a vital skill set that nursing students need to provide effective patient-centered care. The COVID-19 pandemic has demonstrated the importance of end of life care and the need to prepare nursing students to deliver," said Fabular.
Fabular believes completing a senior capstone project was challenging but reinforced her development as a critical and active thinker. Through her work, she's learned to understand arguments from different disciplinary perspectives and has learned how to analyze and evaluate material through literature reviews, comparative studies and annotated bibliographies.
"From my research, I hope people will be able to understand the preparation of nursing students in therapeutic communication and meeting the emotional needs of patients at the end of life is essential. I also hope nursing faculty will utilize the study participants' recommendations to improve the learning experience," said Fabular.
Based on responses from participants, Fabular's recommendations for improving end of life education involves smaller groups of students, additional opportunities to be active participants and exposure to various death conditions. She believes such recommendations will improve learning outcomes and enhance nursing students' ability to provide high-quality end of life care to patients and their families.
Fabular has been interested in nursing for years, as she wanted to work in a compassionate field. After her first clinical experience in assisted living, she realized how much she enjoyed working with patients, which led her to pursue a minor in gerontology to learn more about nursing care for the older adult population. Fabular plans to get certification as a critical care nurse and eventually pursue studying to be a family nurse practitioner.
Fabular has served as vice president of the Student Nurses Association at SXU, where she coordinated the execution of major events, fundraising and co-curricular activities for students. She was also a nursing peer tutor and mentor and provided individual support and review of written and verbal content. She served as a nursing simulation resource lab assistant, where she arranged and prepared simulation lab scenarios and assisted in replenishing laboratory supply needs. She was also the recipient of the Dr. Agnes Polous Outstanding Undergraduate Nursing Student Award in 2021.
Fabular was drawn to Saint Xavier because of its School of Nursing and Health Sciences (SONHS) and rigorous, reputable nursing curriculum. At SXU, she developed close friendships that enabled her to survive nursing school, as her group of peers studied and supported one another in their academic, professional and personal lives.
Fabular feels that her time at SXU has been critical in preparing her for the challenges and demands of a nursing career. Through her classes, she has learned to be a critical thinker with skills rooted in being open-minded, persistent in searching for the truth and perseverant within a clinical setting.
"I am so grateful for the mentorship and guidance I received from Dr. Tiberg, who graciously offered her time, effort, patience and wisdom. My classes have taught me to look at each unique patient situation and determine which identified assumptions are accurate and relevant. A nurse needs to recognize a patient problem, analyze the problem, evaluate the information and make conclusions to act appropriately, all of which I was able to do in my research," said Fabular.
Fabular has also volunteered at the University of Chicago Medical Center in Orland Park. In the future, she plans to study for the NCLEX and work in an intensive care unit (ICU). In her free time, she enjoys spending time with family and friends, watching movies, hiking and playing tennis.
---