/
/
/
SXU Nursing Student Juggles it All - School, Work, Family, and a Cake Decorating Business
SXU Nursing Student Juggles it All - School, Work, Family, and a Cake Decorating Business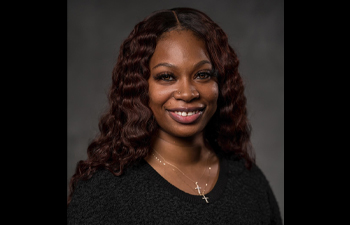 Saint Xavier University (SXU) nursing student Cherri'ka Burks has wanted to be a pediatric nurse her entire life, and she's juggling a full-time nursing job, full-time schooling and a cake decorating business! Despite the hectic schedule, her dedication to service is what keeps her going. Burks, who is already a licensed practical nurse (LPN), chose to study at Saint Xavier because of the LPN to BSN option, which offers students the opportunity to earn a bachelor of science in nursing in a reduced time frame and to qualify for the national council licensure examination for registered nursing (NCLEX-RN).
"I've never explored or even thought of any other career choice besides nursing. I was drawn to the nursing field by my heart, as I want to help those who can't help themselves and help people to feel less alone," said Burks. "When I became a certified nursing assistant (CNA), that dream was solidified for me, as a lot of my patients became my adopted family members. It really makes the job worthwhile when you can see the impact you've made in the lives of others."
Burks finds that what she is learning at SXU is helping her to further her knowledge and understanding of the nursing field. Though some of what she is learning isn't new information since she is an LPN, she finds the content just the refresher she needs for being able to critically think and apply hands-on knowledge in the field, which she says even the most experienced nurses need.
Burks is the secretary of SXU's Black Student Union (BSU) and a member of the Student Nurses Association (SNA), C.L.A.V.E.S and Cougars Commute. She loves her convenient commute to campus and finds that one of her favorite things about SXU is the core values of the institution, the diverse student population, and the attentiveness and helpfulness from the staff and faculty.
"One of my favorite professors is my advisor, Professor [Barbara] Gawron, who has helped me during my LPN to BSN transition since the beginning of the program. I love how she advocates for me being a transfer student and has helped to make sure my academic plan is where it needs to be. She often calls me her angel, but she just doesn't know how much more she is an angel to me," said Burks.
"Cherri'ka Burks is an unsung hero, working the front lines as an LPN within long-term care and home health for our elderly and most vulnerable members of society. Despite the rigors of a full-time job as a health care worker, she is successfully completing her goal of a BSN to become a registered nurse. I am so humbled by her dedication, service and stamina, and recognize these attributes consistent with our Mercy mission," said Gawron.
In addition to her work in the nursing field, Burks also owns a cake decorating business, Flavored with Favor Dessert Co. She began baking when she was 14 years old after being taught by her grandmother, and she finds it a great stress reliever. Burks is both a full-time student and full-time nurse, as well as a wife and a mother to two growing boys and a puppy, so she certainly has her hands full!
Upon graduation, Burks plans to be the best nurse she can be and continue to help and advocate for those who need an extra voice. She would also like to further her nursing career by becoming a pediatric nurse practitioner and plans to obtain as many certifications as she can so she can impact different parts of the nursing field.
"I chose this profession of service because I've always had a spirit of service. I am always there to help when I can and speak up for people who need it. I have shown each of SXU's core values to every patient I have come into contact with," said Burks.
---