SXU's NWCCU Moves Into Graham School of Management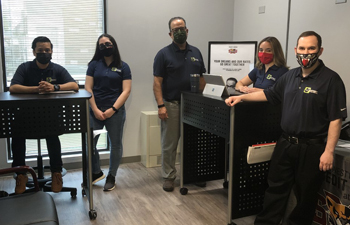 Northwest Community Credit Union (NWCCU) at Saint Xavier University (SXU) has moved into the Graham School of Management (GSM). The credit union, which began providing financial services to its members in 1939, offers a full roster of savings and loan products to its members and began its on-campus operations at SXU in 2016 with the goal of offering enhanced financial literacy for students while providing a real-world business experience.
The student-run credit union, one of only a handful of on-campus, student-run credit unions nationwide, was previously located in a repurposed residential home across the street from GSM. The Association to Advance Collegiate Schools of Business (AACSB) requires that a business school's physical facility promote a high-quality environment that fosters success of all participants in support of the school's mission, strategies and expected outcomes, so the move was logical.
"Given that many GSM students intern at NWCCU and the remodel promotes a high-quality environment, the relocation is a win for both GSM and the credit union," said Mark Rosenbaum, Ph.D., dean of GSM. "Here, students learn how to manage a financial institution, which entails understanding the importance of client relationships and promoting a service-focused organization that faces intense competition."
"The goal of this credit union initiative is to provide a true experiential learning environment and educate a young population on the benefits of credit union membership," added Jose Garcia '92, president and CEO of NWCCU.
The credit union was moved into a space in GSM that was previously dedicated to three vending machines, inset off a hallway. The credit union was added to the newly open space and repurposed with new flooring, paint and furniture.
Having students at the forefront of a branch ensures that the credit union stays up-to-date with the latest trends and stays fun and interesting for young members who need the most guidance with making smart and helpful financial decisions. Students are also taught to exemplify SXU's Mercy mission and core values in their service to credit union clients.
"I really enjoy interning for the credit union. I have learned a ton about loans, credit cards, mobile banking and financial literacy. I enjoy brainstorming and creating posts for our social media accounts and love giving financial literacy presentations to students and communities," said Rosie Alaraj, a senior finance major.
"I have been able to flourish with the skills I've learned – communication, open-mindedness and creativity. I bring to the campus a familiar face that is approachable, convincing and adaptable. Not only have I become more financially fit, but I have earned great lifelong connections for the road ahead," added Marc Vargas, a junior sociology major.
Credit union products and services are available to students, staff, faculty and alumni of SXU. For more information, visit the NWCCU at SXU web page.
---