SXU Professor Brings Industry Expert Series to Marketing Classroom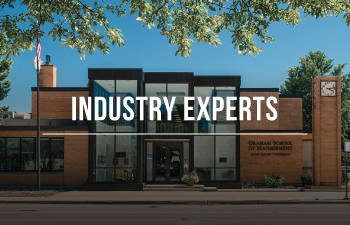 Saint Xavier University (SXU) marketing professor Joy Shields is bringing high-impact learning strategies to her Marketing-380 class with a series on industry experts from major retailers, both domestic and international. Each week, experts ranging from brand directors and data analysts to sales strategists and marketing consultants will cover critical marketing topics such as consumer behavior, integrated marketing communication strategies, market innovation and global marketing.
Shields believes that in collegiate education instructors have a duty to bridge the theoretical with practical applications. In a previous face-to-face course, she had industry experts come in and present to students biweekly, and students enjoyed their interactions with working practitioners. They also had an opportunity to present communication plans to small business owners.
"The Industry Expert series is an evolution of my belief that both theory and practice are equally important in higher education. Hearing from the experts also allows students to increase their networks, which can lead to a number of opportunities," said Shields.
Mark Rosenbaum, Ph.D., dean of the Graham School of Management (GSM), added, "Industry experts provide learners with practical insights that are often absent from textbooks. In addition, industry experts understand the unique challenges that confront the Chicagoland area, and thus, they are a prime source for relevant and timely information."
SXU was recently reaccredited by the Association to Advance Collegiate Schools of Business (AACSB) and part of the reaccreditation requirements involve adhering to a set of business standards which exemplify contemporary and meaningful educational practices. Accredited institutions must hold themselves accountable for improving business practice through a commitment to strategic management, learner success and impactful thought leadership. In bringing industry experts from leading global organizations to her classrooms, Shields is giving students an opportunity to learn how theories, frameworks and concepts are actually applied in corporate settings.
"I graduated from GSM's graduate program in 2016, and the professors that taught me were phenomenal. That's part of the Saint Xavier difference. I want to give to my students as my professors gave to me," said Shields. "My teaching philosophy was cultivated by watching and learning from SXU professors. I consider it an honor to teach the students of SXU and do not take that responsibility lightly. As such, I believe high-impact learning practices should be instituted into every course I teach."
Though print and digital technologies help explain concept to students, learning firsthand lessons from business executives through a form of storytelling allows students to gain unique insights regarding how they can solve problems they are likely to encounter as managers.
"I hope that over the course of the semester, students are able to see how theories, concepts, strategies and methodologies they learn in class and read about in textbooks are utilized in real-world practical application from experts who live and breathe marketing daily," said Shields.
Shields plans to continue to cultivate the Industry Expert series and bring innovative ways to bridge theory and practice to the classroom.
What marketing students are saying about the Industry Expert series:
"Industry Expert Andrew May discussed how important consumer insights are when considering market research – to consider the 'why' before the 'what,' and this simple explanation was something I have never heard before, and I felt that it described how market research should be conducted so perfectly." -- Natalia Wszeborowska
"I believe the Industry Expert series is a very good resource and gives a great glimpse of the real world. It allows us to ask questions and get accurate and trustworthy responses from experts in the marketing field. You can learn a lot in a textbook, but you can really learn from someone who is actually doing the job." -- Joseph Bettinardi
"The Industry Expert series with its paradigm-shifting nature is a beneficial opportunity for my peers and me. It bridges the insightful information we learn in class with real-world applications. The experts' experiences and competencies manifest the impact of marketing strategies in today's business setting." -- Ryan Koesema
"I've enjoyed the Industry Experts experience as it's something I have not done in any other class. Having the opportunity to ask questions based on what we have learned from our weekly modules is beneficial." -- Michael Iturbe
"I am a big advocate for the Industry Expert series implemented by Professor Shields. The opportunity to connect with experienced marketing professionals each week has brought my education to new heights." -- Jacob Hardie
"I cannot express how invaluable it is to be able to get information from industry experts, especially in these unique times. COVID-19 has changed so many aspects of how businesses will continue to operate in the future, so being able to gain insight as we transition into the industry is priceless." -- Michael Marske
"The Industry Experts series provides students with the opportunity to speak to diverse individuals with experience in various aspects of marketing. Each series directly relates to the chapter that is being covered, which allows students to understand how theories are put into practice." -- Sofia Carrillo
---