/
/
/
SXU Communication Professor and Friends Start First-Ever Black-Owned Bread Company
SXU Communication Professor and Friends Start First-Ever Black-Owned Bread Company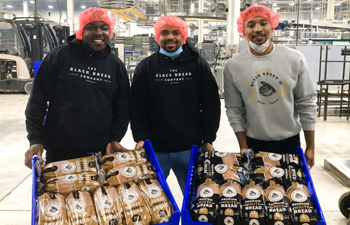 Saint Xavier University (SXU) adjunct communication professor Charles Alexander, along with his two best friends, Mark Edmond and Jamel Lewis, have started the world's first and only Black-owned sliced bread company, The Black Bread Company.
The company, whose mission is to encourage creativity and ensure generational progression to sustain marginalized communities, was started last year. During a trip to the grocery store at the height of police brutality protests across the United States, Edmond wanted to buy Black-owned products but was unable to find any bread that was Black-owned, so he connected with Alexander and Lewis and the three jumped into action.
"It's one thing to see a problem and talk about it, but taking the responsibility and going against the grain to do something that has never been done before takes a lot of courage," said Edmond. "We want minorities and anyone who is marginalized in our communities to know that anything is possible. When people hear The Black Bread Company, it should resonate more than bread – it should resonate the endless possibilities future generations can look up to and be inspired by."
They wanted to create something that was authentic, healthy, flavorful and affordable. Their bread is unbleached and contains natural ingredients. The three tried over 1,000 types of bread and recipes until they landed on something special.
"It's fluffy bread, but also thick. We wanted it to pass the peanut butter and jelly test – strong and solid, and you can taste the honey and grains. We wanted it to be high-standard, premium, gourmet sliced-bread," said Alexander.
In addition to quality, The Black Bread Company finds it critical to be able to provide their bread to under-resourced areas with food deserts, hoping to pave the way for communities to make progress when it comes to health, nutrition and food availability.
"In neighborhoods like the one we grew up in, often times there is just a corner store or mini mart with limited options. Being available is important. Business owners start businesses to fill voids, and we want to be part of that change," said Lewis.
Alexander, Edmond and Lewis first met at Chicago's Kenwood Academy High School, where the three immediately clicked. They are godparents to each other's children and share a great admiration for one another, appreciating each other's artistry, loyalty, creativity, drive and mindsets. All three say their friendship is the foundation of their company, and they each contributed their unique talents to their roles – Alexander serves as the communication director, Edmond as the sales director and Lewis as the marketing director.
Though the three are intensely focused on The Black Bread Company, they each follow other pursuits as well. Alexander, whose background is in higher education, has been teaching communication since 2010. He also founded Speak H.O.P.E., a not-for-profit organization that promotes empowerment of marginalized identities through public speaking at high schools, universities and community centers located within urban environments. Lewis is a singer and songwriter and also studied marketing at Columbia College and Edmond, an entrepreneur, is passionate about real estate and construction.
Alexander finds that The Black Bread Company's mission aligns directly with the mission of the Sisters of Mercy – to aid the under-resourced and marginalized, provide scholarship and respect, and live with integrity. Their goal is to provide support to those who need it, and with less than a year to their brand, they sent 500 loaves of bread to the Houston Food Bank during the February storm in Texas. They also look forward to creating jobs and helping others support their families. As important to the group as mission is also legacy.
"We hope to be a household name," said Lewis. "It is our intention to be the bread of the future for the neighborhoods and communities who aren't receiving the attention they deserve. Legacy represents progression, inclusiveness, love, unity, ownership and strength."
"We want to be competitive and profitable, but foremost, we are mission-based. The mission of supporting those in need is in everything we do. The Black Bread Company has cemented a legacy that goes far beyond our existence. That is what is so special about this company. We wake up every day to do something for someone else," added Alexander.
"We want to open the consciousness of the African American consumer. We need to get out of this coma of shopping and spending your money supporting corporate businesses while your neighborhoods, school systems and Black-owned businesses are failing. We can reach back into our history and understand the foundation of a thriving community, take the right steps," said Edmond. "Legacy is one of our gifts to the world. It is something that is going to be here well after we are gone and something people can always learn from."
Ultimately, The Black Bread Company hopes to release positive vibes into communities and create a world of progression. They want to support more people, be more widely available and become a household name. The Black Bread Company believes their path is limitless, though immediate plans are to release new products such as hamburger and hot dog buns and multigrain and brioche bread and hold some summer events in Chicago. The Black Bread Company products are available online nationwide and they also offer subscription to their Private Bread Club for monthly on-demand bread delivery.
To learn more about The Black Bread Company, visit their website or email them at blackbreadcustomer@gmail.com.
---