/
/
/
SXU Nursing Professor Named to de Beaumont Foundation's 40 Under 40 in Public Health
SXU Nursing Professor Named to de Beaumont Foundation's 40 Under 40 in Public Health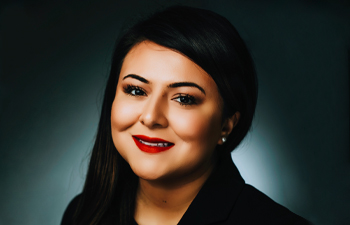 Saint Xavier University (SXU) nursing professor and alumna Gloria Barrera '07, MSN, RN, PEL-CSN, has been named to the de Beaumont Foundation's 40 Under 40 in Public Health list. Those named to the list reflect the best of the public health field and have made impressive accomplishments in improving the health of communities across the county.
The de Beaumont Foundation focuses on improving health at the community level by investing in tools, partnerships, policies and the public health workforce, sharing a vision for a nation where every person in every community has the opportunity to achieve their best possible health.
Though there are many lists that recognize young leaders in health care, this is the first list of its kind exclusively for public health professionals. Those leaders are making communities healthier with new ideas, problem solving and innovative solutions. Hundreds of applications were submitted, and the cohort was selected by a distinguished panel of health leaders on their leadership and impact on their community's health.
"In a year where public health nursing has played a critical and visible role in strengthening our communities, I thank the de Beaumont Foundation for honoring and recognizing our work by including me in this prestigious list," said Barrera. "I am committed to improving health outcomes in our most vulnerable populations through my current practice, advocacy and teaching."
When Barrera was a toddler, she was diagnosed with Guillain-Barré syndrome and was in an induced coma for over three months. The nurses who cared for her made a lasting impression on her family, and hearing those stories solidified her calling to become a nurse.
Barrera was chosen to be the alumni speaker at SXU's Nursing Pinning Ceremony a few years ago, and since then, she's been teaching nursing at SXU. She works tirelessly to promote health equity and elevate the public health nurse's role.
"It's an honor to serve as faculty at my alma mater and carry on the legacy to develop future nurse leaders and create an ongoing culture of being a lifelong learner," said Barrera.
---