/
/
/
SXU Professor Named Director of Clinical Education at Ludden Speech and Language Clinic
SXU Professor Named Director of Clinical Education at Ludden Speech and Language Clinic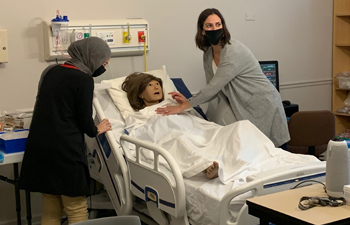 Saint Xavier University (SXU) speech-language pathology professor Lisa Osier, CCC-SLP, recently named director of clinical education at SXU's Ludden Speech and Language Clinic, is excited to improve the clinical curriculum and experiences for students and clients. In addition to helping students to become ready for clinical practice by utilizing SXU's new nursing simulation lab, Osier is also working to transition the clinic from paper records to electronic medical records (EMR) and offer free speech and hearing screenings for children at the clinic.
"I am always looking for ways to grow, especially in the ever-evolving field of speech pathology. To keep up with the demands of our profession, as a department, we need to continually assess and reassess our programs and procedures. The end result produces high-quality clinicians and high-quality services for clients," said Osier.
Osier, who has a bachelor's degree in communication sciences and disorders and a master's degree in speech-language pathology, had been working as a medical speech pathologist for an adult population at acute hospitals for the past decade. As a clinician, she has always supervised students, and because she loved giving back to the speech-language pathology profession in that capacity, she decided to transition to academia full time to further explore her passion of mentoring.
Osier has a history of developing student-focused resources and policies for student externships. Before beginning her work at SXU, Osier developed a speech pathology externship manual for students and supervisors, which provided clear guidance on externships using hospital and American Speech-Language-Hearing Association (ASHA) guidelines, giving students instructions on how to chart review and plan for therapy sessions. The tool provided clear expectations of actions that would be taken if extra support was required and were used to facilitate supervisor management of performance and communication of positive and negative outcomes.
Osier utilizes the nursing simulation lab at SXU to help students prepare for external medical placements. Simulation is well-received by students, who see increased confidence and skills throughout their preparation, she said. Osier has witnessed her students building a personalized clinical foundation by synthesizing theoretical content into real-world work, and she is thrilled that the enthusiasm for the speech pathology profession has been palpable in the lab.
"What sparked my interest in simulation technology is that graduate clinicians reported feeling underprepared for medical placements. Upon investigation, I discovered that simulation has become an integral part of interdisciplinary clinical curriculum. We already have the high-fidelity manikins and simulation software, so I decided to try it, hoping to improve outcomes in clinical skills," said Osier. "It's clear this type of pedagogy is valuable and effective by looking at the inspired faces of our own student clinicians."
Osier wanted to enter the speech-language pathology field because she wanted to help people, drawn to the rehabilitation aspect of the medical team as it focuses on quality of life.
"I love working with clients who are experiencing swallowing issues or communication issues. To me, these are two of the best aspects of life – sharing a great meal and sharing stories with our loved ones. So many of our clients just want to sit and talk with their families, or drink water without choking. As a speech therapist, I make those goals a reality. I love that I get to use science and research to guide my practice, but at the same time, I get to tap into my humanity and connect to people on a personal level," said Osier.
Osier is also working to improve the Ludden Speech and Language Clinic by transitioning paper records to electronic medical records. This will make communication more efficient and will be consistent with other speech clinics nationally, which will also give students an opportunity to have real-world practice of documentation while in graduate school so they have an advantage when they enter the workforce. Along with Kathy Rohan, director of Clinical Operations at SXU, Osier has collaborated with EMR developers to maximize the system to best meet their needs.
Osier finds that SXU's Mercy mission beautifully supports her approach to life, believing that when the heart leads, the mind will follow, a wonderful complement to the mission, which encourages the community to combine the gifts of hearts and minds to service others. Osier has greatly enjoyed her time at SXU, especially with her students, who she finds eager to learn, compassionate and thoughtful, and at the Ludden Speech and Language Clinic, which she finds impressive and valuable.
"I am amazed by my students' adaptability during an extremely challenging and uncertain time, and amazed by the Ludden Speech and Language Clinic, which provides free services to the community – it's unbelievable in an age where insurance dictates services and out-of-pocket costs are unmanageable. I wanted to be part of an institution that provided comprehensive supportive speech services to those in need," said Osier.
---