SXU Professor's Nonprofit Wins Telly Award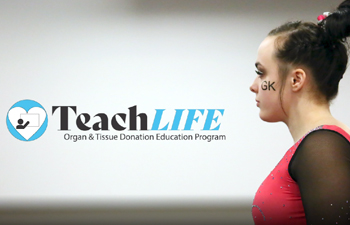 Saint Xavier University (SXU) communication professor Cynthia Grobmeier's nonprofit, the Maddog Strong Foundation, has received an International Telly Award for their "Teach Life" organ and tissue education documentary. The award recognizes the best in video and television across all screens and had over 12,000 entries from 50 states and five continents, making the Maddog Strong Foundation's Silver Award even more exceptional.
"As a young nonprofit, to be recognized among such well-established organizations like the J. Paul Getty Museum and the Michael J. Fox Foundation for Parkinson's Research is truly an honor. The Telly Awards have been around for 42 years and are recognized and respected around the world – to receive such a prestigious award is simply amazing," said Grobmeier.
"Teach Life" is part of the new Illinois Teach Life Organ and Tissue Education Curriculum Program, free to all Illinois high schools beginning fall 2021. The program will allow high school health and science teachers to educate their students about organ and tissue donation so they can make informed decisions about donor registration.
The half-hour documentary tells the story of Grobmeier's daughter, the late Maddie Grobmeier, a 17-year old gymnast who suffered an acute asthma attack just days before her 18th birthday and passed away shortly after. A few months earlier, a rollover car accident Maddie was involved in had prompted her to have a discussion with her parents about her decision to be an organ and tissue donor. With her gifts of donation, Maddie saved three lives and changed the lives of countless others.
"Maddie's story is the backdrop for a comprehensive walk through the organ and tissue donation to transplantation process, as told from Gift of Hope, Illinois' organ procurement organization, and others. Producing a documentary of this nature in the midst of a global pandemic was challenging, but with a lot of cooperation, we managed to complete filming for not just the one-day curriculum, but also for the videos that will accompany our more in-depth, weeklong curriculum coming out this fall," said Grobmeier.
The three pillars of the Maddog Strong Foundation's mission are education, registration and conversion, and they inspired the team to create the documentary as a way to provide critical educational resources to experienced health and science educators so they can help students learn the facts that will ultimately dispel the myths about organ and tissue donation.
"Our curriculum development team, which includes professionals from health care and organ procurement organizations as well as high school educators, donor families, transplant recipients and Saint Xavier's own education faculty member, Dr. Margaret Carroll, is working on the curriculum and focusing on implementing the program in high school classrooms across Illinois," said Grobmeier.
In May, the Maddog Strong Foundation also partnered with Donate Life America and the band HKNY to produce an original song and music video honoring organ and tissue donors called "Leap for Life." In the future, the foundation hopes to continue to engage young people on campuses, at athletic events and via social media with other creative projects.
---