/
/
/
SXU Psychology Alumna Submits Thesis to Journal of Applied Social Psychology
SXU Psychology Alumna Submits Thesis to Journal of Applied Social Psychology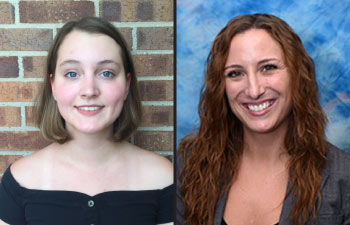 Saint Xavier University (SXU) psychology alumna and research assistant Tiffany Abrams '20 has submitted an honors thesis she worked on as a student to the Journal of Applied Psychology, a monthly peer-reviewed journal published by the American Psychological Association. Abrams' thesis is unique in that it contributes novel findings to the topic and will be informative for other social science researchers.
Abrams, who collaborated with both psychology professor Angela Pirlott, Ph.D., and Lauren Banicki, an SXU psychology student, examines American adults' perceptions of and opposition to prostitution within her thesis, which aims to understand whether people are predominantly opposed to prostitution due to the hazards presumed to co-occur with prostitution or due to the exchange of sex for money. They collected laypeople's open-ended perceptions of prostitution and coded the responses into themes, with results from the first study revealing that American adults associate prostitution with cheating, desperation, drugs and alcohol, enslavement, exploitation, immorality, legal status, physical abuse, sexually transmitted diseases and trafficking.
Using the themes from the first study, they created two sex-for-money exchange scenarios – one which included negative external factors and the other explicitly neutralizing those negative factors. Then, participants stated their oppositional stance and reasoning for both scenarios. Neutralizing the negative cofounding factors decreased opposition to prostitution, suggesting the opposition is primarily driven by the negative external factors presumed to occur with prostitution rather than by the act of exchanging sex for money.
Abrams was interested in the thesis topic throughout her undergraduate career, as she never quite understood why prostitution was illegal or warranted such strong opposition. Her honors thesis provided her the opportunity to fully develop her research question and examine the current literature of perceptions of prostitution to address the gap and shortcomings by conducting her own research.
"Ultimately, this research stemmed from my curiosity about why consensual relations with a stranger were acceptable but charging a stranger money for sexual relations was not and resulted in such major implications, regardless if the exchange was completely voluntary and innocuous," said Abrams.
According to Pirlott, Abrams' project is the first undergraduate student-led research project that has warranted submission for publication in her nearly nine years as a psychology professor at SXU. Typically, undergraduate projects are more about getting a "taste" for science than contributing to society's knowledge base. To pursue research with the goal of making a contribution requires a great deal of work usually beyond the scope of an undergraduate research experience.
"It is difficult to develop a research project that warrants publication because several requirements need to be met. The project must be novel and fill a gap in literature, and the methodology must be carefully designed, executed and analyzed," said Pirlott. "Tiffany's set of studies built logically upon each other, filled a gap in the literature and used appropriate methodology. Her writing was able to make a strong case for making a contribution to the current literature."
"Not only does submitting this work to a journal for publication mean authorship at such an early stage in my academic career, but also that these findings will be dispersed and accessible for other social science researchers and entities to utilize, replicate and make informed decisions from. It means so much to me that our hard work and dedication will have paid off and that my research can make novel contributions," added Abrams.
Abrams hopes that the research will help inform other social science researchers on the gaps in the prostitution literature and the importance of measuring the "why" of people's perceptions and opposition to prostitution. She also hopes that other researchers will further replicate and examine opposition to various instances of prostitution, which she believes will further disentangle the conditions that affect public perceptions and opinions on the social issue.
"Policymakers can utilize social science research on drivers of opposition to prostitution to more specifically address the prostitution problem by treating different types of prostitution as separate entities that elicit different hazards, concerns, opinions and levels of public support," said Abrams.
Abrams and Pirlott greatly enjoyed working together and found that their rapport, feedback and energy kept each other engaged and allowed the project to propel forward efficiently.
"Tiffany has an incredible work ethic and the ability to maintain a positive attitude even in the face of stress. She put in tons of hours each week to keep the project moving – probably 10 to 30 hours per week to ensure we could move quickly," said Pirlott. "Getting professional-level critical feedback can be really difficult, especially when you might have worked a really long time on something, but Tiffany always took feedback in stride, knowing it was making her a stronger researcher and creating a stronger manuscript."
Student-faculty research is an excellent way for students to strengthen their research skills of critical thinking, scientific writing, data analysis and more. These skills promote professional development and are necessary for students interested in attending graduate school.
As an SXU psychology student, Abrams was able to experience the "Saint Xavier difference" by working one-on-one with Pirlott. Student-faculty research is beneficial because it offers both personalized instruction and professional development opportunities.
"At other larger universities, undergraduate students might only work with graduate students or work like lab techs, but at Saint Xavier, research students are collaborators in research, and that opportunity is invaluable," said Pirlott.
Abrams encourages current SXU psychology students to take advantage of the research opportunities through the University and to ensure they have a strong foundational statistics and research methods understanding. There are opportunities for students to conduct research as research assistants or conduct their own research projects with the supervision of a faculty member.
In the future, Abrams plans to attend a clinical psychology doctorate program with an emphasis in forensic psychology. She aims to conduct research on correctional/diversion programs and the relation to inmate mental health and reintegration and hopes to eventually work in the corrections or legal sector of the criminal justice system with mixed clinical, research and administrative responsibilities.
---