/
/
/
SXU's School of Nursing and Health Sciences Announces Recipient of First Endowed Professorship
SXU's School of Nursing and Health Sciences Announces Recipient of First Endowed Professorship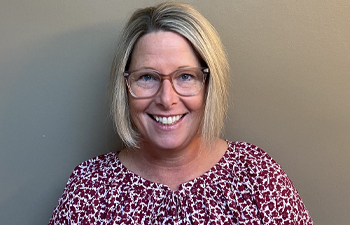 Saint Xavier University's (SXU) School of Nursing and Health Sciences (SONHS) has announced its first recipient of the Gerald F. Loftus, M.D. and Mary Clare Loftus, RN, M.Ed. Endowed Professorship for the 2020-2021 year. Jeanine Reilly, '90, '08, MSN, RN, CPN, AE, CNE, nursing professor, will lead an initiative to complete and evaluate an ongoing and extensive overhaul of the BSN curriculum at SXU.
The Gerald F. Loftus, M.D. and Mary Clare Loftus, RN, M.Ed. Endowed Professorship represents the largest individual gift to the University since 2006 and is the first endowed professorship in SXU's nearly 175-year history, demonstrative of the sustained contributions made by the Loftus family to Saint Xavier. The endowed professorship is in addition to the existing Mary Clare '65 and Gerald Loftus Nursing Scholarship, symbolic of the Loftus family's commitment to SXU's Catholic faith and a desire to benefit humankind through high-quality health care education. The endowed professorship will continue this legacy of academic excellence and compassionate service to others by empowering SXU faculty to advance the nursing profession and train the next generation of leaders in health care.
Each year, the SONHS dean will identify one or more priorities, aligned with the broader institutional strategic plan, for the endowed professor to address. The endowed professor will actualize the mission of SONHS and ensure the high standards of the nursing program continue into the future. Through a competitive process, Reilly was selected by Gwendolyn George, DNP, APRN, FNP-BC, dean of SONHS. George based her decision on the candidate's record of excellence in the areas of teaching, scholarship and service, as well as the candidate's ability to effectively address the professorships' strategic priority.
"Professor Reilly's proposal presents exactly the kind of forward thinking that will advance the relevance and competitiveness of our nursing curriculum into the future. She is a strong and innovative thinker with the success of our students at heart," said George.
As the endowed professor, Reilly will serve a two-year term and will utilize funds for specific program purposes including course release, the hiring of student research assistant(s) and travel costs. Reilly's project will ensure SONHS continues to offer state-of-the-art, nationally-ranked and competitive programs that provide the skills necessary for nurses to meet 21st-century health care challenges. As she works, clear goals, objectives, timelines, deliverables and return on investment will be established and monitored.
Funds from the professorship will support the implementation and evaluation of a SONHS concept-based curriculum and will enhance teaching resources. Reilly will work closely with an expert curriculum evaluation consultant to design the evaluation plan and begin to gather data. When the nursing program has its routine accreditation visit in 2023, Reilly's work with the evaluation will be part of the self-study. To support faculty development, she will be attending an educator conference on curriculum development, evaluation and concept-based teaching strategies. An expert nurse educator will provide faculty workshops to support innovative, concept-based active learning strategies.
"The professorship is an honor to accept. Since 2019, I have been working with a team of hard-working and dedicated faculty that have invested much time transitioning from the previous undergraduate nursing content-driven curriculum into a concept-based curriculum," said Reilly.
"Professor Reilly's goals align with our commitment in SONHS to be mission-focused, student-centered and strive for program excellence. I am grateful that we are fortunate to have the Loftus Endowed Professorship to help SONHS achieve these goals," said George.
During her two years as endowed professor, Reilly plans to assure the undergraduate SONHS concept-based curriculum continues to be worthy of SXU's designation as a National League for Nursing Center of Excellence in nursing education.
"I am looking forward to having the time and funds to continue this process to enhance our undergraduate nursing curriculum to prepare students for current health care challenges and further my professional growth in curriculum development and evaluation," said Reilly.
"I am thrilled to see such an impactful philanthropic initiative," said President Laurie M. Joyner, Ph.D. "Thanks to this extraordinary gift, combined with Professor Reilly's innovative project, our nursing program will see tremendous benefits in terms of enhancing curricular relevance, educational quality and efficiency. This will support our efforts to remain nationally-recognized and competitive in attracting outstanding nursing students and faculty to come to our program for years to come."
---