SXU and Spectrum Alliance Celebrate Pride Month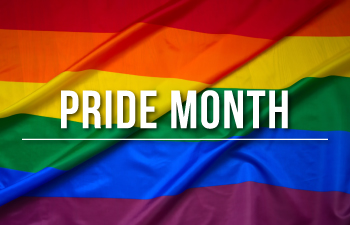 Saint Xavier University (SXU) is celebrating Pride Month during June, a month of LGBTQIA+ (lesbian, gay, bisexual, transgender, queer/questioning, intersex, asexual and many other terms, such as non-binary and pansexual) awareness. SXU's Spectrum Alliance organization works throughout the year to promote the acceptance of diversity throughout the community and provide a safe, secure environment for the LGBTQIA+ community and their allies through educational and social programs.
Pride Month is observed in June as a time to commemorate the Stonewall Riots, a series of demonstrations by members of the LGBT community in June of 1969 after a police raid at The Stonewall Inn, a bar that catered to an assortment of marginalized communities. The riots are considered to be part of the most important events leading to the gay liberation movement and fight for LGBT rights and equality in the United States.
While Pride Month occurs during the summer break, Spectrum Alliance has celebrated together and in their own ways and encourages the SXU community to do the same.
"Spectrum Alliance is celebrating Pride Month in our respective communities by spreading love and acceptance wherever we go and to whoever we meet. One thing I would recommend people do is to join the fight for equality and the freedom to love by uplifting LGBTQIA+ voices and supporting the community beyond Pride Month!" said John Calaunan, a computer science and graphic design major. "Pride Month is so meaningful to me because it celebrates love and acceptance. It is a constant reminder that there is still inequality and discrimination in the world, and we need to fight against them to ensure that LGBTQIA+ people of the present and future can get the rights they have always deserved. Spectrum Alliance is like Pride Month throughout the school year, and one of my favorite things about it is that it has become a second family to me where I can unapologetically be myself."
Spectrum Alliance wants the SXU community to know that when celebrating LGBTQIA+ members, it's critical to listen, as everyone has their own identities and wants to be heard. Spectrum Alliance also reminds us that the LGBTQIA+ community is still combating many issues when it comes to equity and encourages the SXU community to stand against the hate and educate those who are ignorant, especially since the allies have a bigger voice and will be heard first.
"The support from the SXU community as allies is definitely appreciated. Feeling heard is one of the most important things. It's crucial to listen to what the LGBTQIA+ community has to say and amplify their voices. Having discussions or teaching others about LGBTQUIA+ topics or issues can also bring awareness," said Melanie Muñoz, a communication major.
"The SXU community can serve as better allies and raise awareness about important issues that impact the LGBTQIA+ community by providing resources for members of the community such as policy inclusion, institutional commitment, campus safety, counseling and health services, and more. In addition, celebrating and acknowledging important events and dates for the LGBTQIA+ community would educate the SXU community about LGBTQIA+ culture and also assure that LGBTQIA+ students are seen and appreciated," added Calaunan.
Throughout this year and next, Spectrum Alliance looks forward to more fun and festivities along with LGBTQIA+ history and education at SXU. The SXU community can participate in Pride Month activities by visiting the library to view a display of books, films, documentaries and more, checking out some of the events going on in the Chicagoland area and supporting Chicago's queer community.
"Pride Month celebrates people of all walks of life within the LGBTQIA+ community, whether it be their achievements or identities. I've found a community of wonderful people who I can relate to and connect with and I am forever grateful for that. When Pride Month rolls around, it's such a lovely reminder. With Spectrum Alliance, the community and its togetherness is my favorite thing. It's a safe space and community for students all school year long," said Muñoz.
For more information on Spectrum Alliance, follow the organization on Twitter( @SXU_Spectrum), Instagram (@SXUSpectrum) or send an email to spectrumFREEmymail.SXU.
---