SXU Student-Athlete Returns to Volleyball Court After Defeating Cancer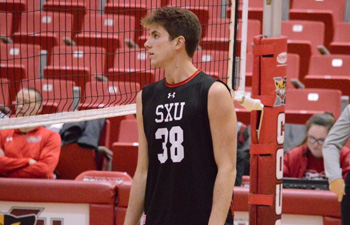 Saint Xavier University (SXU) student-athlete Cameron Petrusevski has an exceptional amount of fighting Cougar spirit. Having recently finished chemotherapy treatment for acute promyelocytic leukemia in March, Petrusevski is working hard to be back in full swing for next year's volleyball season.
Petrusevski, a chemistry and communication major and Honors Program student, will graduate in 2023. Despite his unexpected diagnosis of the rare cancer in July 2020, Petrusevski has managed to remain optimistic and enjoy each moment as it comes. Even while battling cancer, Petrusevski managed to maintain a 4.0 GPA during the fall 2020 semester.
"This has been an eye-opening experience. I've always been a pretty positive person, but this diagnosis brought it to a new level. I lost muscle, was hooked up to an IV 20 hours per day and was alive but not living. What kept me going was looking forward to team practices or vacations," said Petrusevski. "In the hospital, I gave myself a day to be sad but realized being sad wasn't going to help me, so I chose to find the good in each day."
Petrusevski, a 6-foot-6 setter, was cleared in October 2020 to start doing individual training sessions with SXU men's head volleyball coach, Tom Ryan, who Petrusevski praises for his kindness and patience. Because of the risk of COVID-19, Petrusevski was unable to practice with his team until he completed treatment. As of April 2021, he's been cleared to rejoin them. Though he had to redshirt the season, he's looking forward to coming back strong in 2022.
"It was hard because I love my team, but I knew it was to keep me safe. I still tried to work out every day. Some days were a lot harder to motivate myself because I was tired or didn't feel well because of the chemo, but I kept pushing so I wouldn't be behind when I got back. I look forward to the challenge of building up my stamina and conditioning," said Petrusevski.
"Cameron was dealt one of the toughest battles a 19-year-old can face when he was diagnosed with cancer last summer. Over the last year, he has defeated cancer, maintained a 4.0 GPA and actively added muscle while going through chemo, all the while maintaining an incredibly positive attitude every step of the way. If ever there were a set of accomplishments that were indication for future greatness, this would be it," said Ryan.
Petrusevski transferred to Saint Xavier after his first semester of college at the University of California. He wanted to be closer to Chicago and was thrilled to receive an offer for a spot on the volleyball team. He enjoys the small class sizes, the close faculty-student relationships and the atmosphere of the University's athletics teams.
The double major was drawn to studying science because he has always been interested in weather patterns, astronomy and space exploration. In the future, Petrusevski plans to go to graduate school to study meteorology and become a meteorologist.
"Saint Xavier is giving me a strong foundation in science, and more importantly, opening up connections and providing relationship opportunities with peers, professors and others who will help me make advancements in my future," said Petrusevski.
In addition to the excellent academic and athletic support he receives, Petrusevski is also grateful to be part of a community that has such strong ties to its mission.
"SXU's mission is such a strong point of the University and part of why the atmosphere is so welcoming. I am committed to serving others, and knowing the community is fully supportive of and actively a part of that makes my time here such a positive and uplifting experience," said Petrusevski.
In addition to his dreams of being a television meteorologist, Petrusevski also hopes to make advancements in volleyball. In his free time, Petrusevski enjoys playing tennis, attending music festivals, traveling and watching the Olympics. He comes from a family of eight and has five older sisters who are some of his biggest supporters.
---