/
/
/
SXU Student Excels Athletically and Academically After Suffering Stroke
SXU Student Excels Athletically and Academically After Suffering Stroke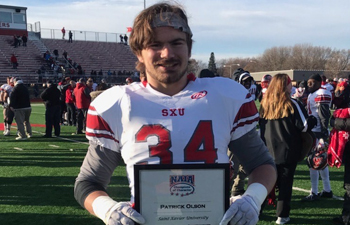 Saint Xavier University (SXU) alum Patrick Olson '21 came back strong to the Cougars football field after suffering an unexpected stroke and heart condition requiring a surgical procedure in 2019. Now a recent alum, Olson will return to SXU in fall 2021 to pursue an MBA in healthcare management. As someone who understands firsthand life's many obstacles, Olson ultimately hopes to give back to others in the health care field.
When Olson suffered his stroke, SXU football coach Mike Feminis was in the hospital room the day after it happened. The stroke caused Olson to lose all feeling and control on the left side of his body. After three months of therapy and heart surgery, he was cleared in September 2019 to resume football activities. His coaches and teammates played a huge role in supporting Olson, from motivating him in the weight room to helping him keep up with his studies.
"Patrick's story is amazing. To see the countless hours of rehab and the relentless work he put in just to start functioning as a normal human being again after his stroke was absolutely incredible. To come back, get back to school and play college football again and play it very well, even earning All-Conference recognition, is nothing short of a miracle and something I never dreamed was possible. Patrick has been an inspiration to so many people. I am just thankful and feel blessed that our paths crossed five years ago and I had the opportunity to be his coach," said Feminis.
Olson played 2-3 games during the fall 2019 season and sat out with the rest of his teammates when the COVID-19 pandemic affected the 2020 season, but returned as a starter for every game of the spring 2021 season. Though Olson doesn't yet have complete control and feeling in his left side, he considers himself about 97% recovered and continues to build up his strength every day through running, weightlifting and throwing a ball around with his brothers. The experience has made Olson appreciate every moment of his life.
Olson first learned about Saint Xavier through an alum of his high school in Valparaiso who'd attended on a football scholarship. Encouraged by the alum, Olson decided to visit SXU, where he met Coach Feminis. He loved the campus and the way he was treated during his time on campus, which ultimately influenced his decision to attend. While at SXU, Olson studied business management. He was drawn to the business field because of its many opportunities.
Olson credits his time at SXU for preparing him to defeat challenges and be stronger in the face of adversity.
"SXU got me out of my own little bubble in Valparaiso and I learned that there is more out there in the world than I thought. My time there prepared me for the real world and helped me understand what it means to be part of a community," said Olson.
Olson also appreciated his business courses, especially learning about the culture of business in other countries and the real-world experience his professors brought to the classroom.
"My professors spent years doing the things they taught us. Their experiences have helped guide me to where I want to be as a professional," said Olson.
Olson served as a resident assistant for three years and served on the Student Government Association (SGA) for two years. He enjoyed interacting with his peers and helping to guide freshman to figure out their purposes. He was especially grateful for the institution's Mercy values, which plays a part in his dedication to serving others. One of Olson's favorite memories of SXU was the annual bonfire during his sophomore year, where he was surrounded by his friends, team, residents and others – a reminder to Olson of why he picked Saint Xavier and how it made him so at home.
Olson looks forward to beginning his graduate studies at Saint Xavier in fall 2021. Ultimately, he hopes to serve in an administrative role in the health care field.
"I struggled with insurance regulations while I was in therapy, where I couldn't get all of the assistance I needed because it wasn't covered. I want to use my administrative role to help people. I want to be the change."
Listing page photo by Mark Korosa.
---