SXU Student Katherine Hutto Named Student Laureate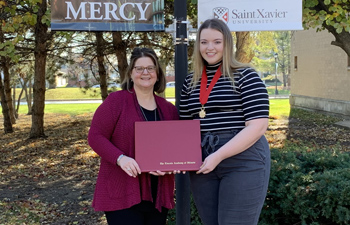 Saint Xavier University (SXU) hospitality management and marketing student Katherine Hutto, a senior, has been recognized as a Student Laureate by the Lincoln Academy of Illinois. Each year, an outstanding senior from each of the state's four-year degree-granting colleges and universities is awarded the Abraham Lincoln Civic Engagement Award and thereby becomes a Student Laureate. Student Laureates are honored for their leadership and service and are reflective of the diverse populace of the State of Illinois.
To Hutto, civic engagement and the betterment of humanity means working to make a difference in one's community by using knowledge, skills and voice, which she believes helps improve the conditions and well-being of an individual and establishes a sense of community.
Hutto, who is from Downers Grove and also has minors in Spanish and writing, has found that her time at SXU has allowed her to truly flourish in leadership positions.
"The courses I have taken have provided me with extensive knowledge in a variety of areas and provided real-life experience on how to handle different situations in the work environment. My student leadership positions have given me a more hands-on approach to growing and learning. Great connections with peers, faculty and staff and these experiences have helped prepare me to be both a leader and a teammate," said Hutto.
Hutto is the Student Government Association's (SGA) executive vice president of programming and the president of the Student Activities Board (SAB) and she has served on both for three years. She also serves as a resident assistant (RA), has been a member of the women's bowling team for four years and is a learning assistant for first-year English courses. Hutto has served on the Student-Athlete Advisory Council and the Graham School of Management Student Advisory Committee. She is a member of the National Society of Collegiate Scholars and Beta Gamma Sigma, the business honor society, and has completed the Cougars LEAD Leadership Certificate. She has been awarded Dean's List honors every semester.
Hutto is a big fan of the SXU mission and feels that it has influenced her overall development for the past four years.
"SXU's mission reminds me that every step of the way, I am working to become a better person. My curricular and co-curricular experiences at SXU have been rooted in Mercy and have encouraged me to act in support of human dignity and the common good," said Hutto.
Hutto is grateful for the experiences she's had at Saint Xavier and the people she has met along the way.
"My extensive involvement at the University stems from my love of community and continued support from those around me. SXU helped shape me into the person I am today."
---