/
/
/
SXU Student Finds Nursing Program Helps Her Build on Values Important to Her
SXU Student Finds Nursing Program Helps Her Build on Values Important to Her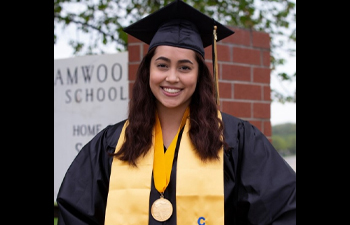 Saint Xavier University (SXU) nursing student Ariana Ruth-Vega finds that her time in SXU's nursing program has drawn her out of her comfort zone and helped her to build on the values that are important to her.
Ruth-Vega initially wanted to be a fashion designer or a journalist, but as she progressed throughout her schooling, she realized how much she enjoyed math and science and begin to consider entering the health care field. She liked the idea of being able to build close relationships with patients and was intrigued by the wide range of specialization options in nursing.
"I was excited and nervous to begin studying nursing at SXU, and though it can be overwhelming, I haven't lost that feeling of excitement, which reminds me I made the right choice in choosing a career in nursing," said Ruth-Vega.
Ruth-Vega is a member of the Student Nurses Association (SNA) and SXU's Student Success Program (SSP). She enjoys helping her peers during studying sessions and often shares tips, tricks and resources to encourage success across the cohort. She finds that her courses are great preparation for the future.
"Each of my classes relates to real-life tasks and responsibilities of nurses in everyday hospital settings. It's also really nice that these courses focus on the different aspects of nursing. I get to learn about assessments that may be performed on patients and at the same time, I learn about different concepts that relate to the professional side of nursing, which are just as valuable as how to listen to heart sounds," said Ruth-Vega.
Ruth-Vega's favorite part about attending SXU is the people she's met on campus, who help her realize she made the right choice in choosing SXU. She spent her first semester online due to the COVID-19 pandemic, so now that her classes are back on campus, she's met many people who have helped her feel more connected to the program. She's found a special mentor in Manal Kanaan, Ph.D., director of high impact practices, who welcomed Ruth-Vega to SXU and offered her a positive attitude and encouragement.
Ruth-Vega keeps SXU's mission and core values close to her heart, and she looks forward to working in a position of service.
"I chose a profession of service because I have always been someone that people can count on. No matter what the case is, I am always there for those that need someone to lean on, and that's an important characteristic of a nurse. I've never given up on those who counted on me and have never given up on tasks handed to me. I know my future patients deserve someone like that to care and advocate for them," said Ruth-Vega.
Though Ruth-Vega's courses keep her busy, she's learned time management skills at SXU and enjoys watching anything related to Star Wars or the Marvel Comic Universe, and she also enjoys playing Animal Crossing and walking her family's new puppy.
After earning her BSN, Ruth-Vega plans to gain experience as a nurse working in a hospital setting. She is interested in working in the intensive care unit (ICU) or medical-surgical. She also has ambitions to earn a master's degree and eventually a doctorate and would like to become a certified registered nurse anesthetist (CRNA).
---