SXU Student Preps for Med School; Gives Back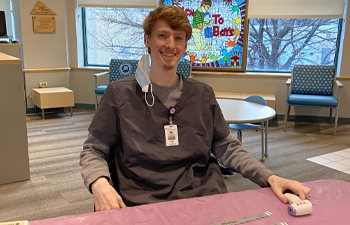 Saint Xavier University (SXU) biochemistry and mathematics student Cody Busch has big dreams – he hopes to become an anesthesiologist and offer compassion and comfort to his patients. Busch, who's involved in a variety of service and academic positions on and off campus, has made it his mission to help those in need.
After graduating from Saint Xavier this spring, Busch will attend Loyola University and earn a master's degree in medicinal chemistry before he applies to medical school. Busch hopes to get more experience with the medicinal side of chemistry and be better prepared for medical school and his career.
"This decision was recent, but ultimately, I felt like it was what God was planning for me. It will serve as a final challenge in my academic gauntlet. If I can do this, nothing can stop me!" said Busch.
Busch has wanted to be an anesthesiologist since he was 14. After having surgery the summer before he started his freshman year of high school, he was so impressed and touched by the way his anesthesiologist took care of him that he wanted to be able to make that same impact on other people, and he's gotten a great head start on that in his volunteer work.
Before the COVID-19 pandemic struck Chicago in March, Busch volunteered at Advocate Christ Medical Center in the pediatric unit, where he would keep sick children company and play games with them. He would also be present during some procedures to serve as a cheerful distraction, and he'd help the families with anything they might need. Because of the pandemic, the volunteer program was unfortunately canceled, so Busch joined a team of COVID-19 symptom screeners at the hospital. In each role, Busch maintains a positive and helpful environment.
"Giving back is the essence of the reason I want to become an anesthesiologist. Through the connections and lifetime experiences and friends I have acquired at Saint Xavier, it's clear why I put myself through such a difficult academic career – to help others smile and be okay. SXU has been nothing but amazing for me, and I want to share my happiness with others," said Busch.
Busch is a chemistry technician at Saint Xavier and prepares the solutions and materials needed for students enrolled in chemistry labs. He enjoys applying what he learns in his courses to real-life applications and knows it will be helpful in graduate school. Busch is also a math and chemistry tutor at Saint Xavier. He feels that his mission as a tutor is comparable to what his mission as a future physician will be – to help those in need.
"I really enjoy the idea of giving back. My professors always put their greatest effort toward bettering my education and helping me to better myself. Helping students who struggle with a concept I am good at makes me feel good. I enjoy helping them to relieve their frustration with problems they need help with, and if I can feel this good helping someone solve something as small as a calculus problem, imagine the payoff I would feel in helping a child through surgery!" said Busch.
In addition to his tutoring and technician efforts, Busch is president of the SXU Math Club, a role he's served in since his freshman year.
"The mission of the Math Club is to spread knowledge and excitement to the community about math and better educate others on possible career goals, applications and concepts in math. We have fun events, like celebrations for Pi Day, an alumni career night and the Associated Colleges of the Chicago Area (ACCA) calculus competition," said Busch.
Though Busch is quite ambitious about his future, he feels well-prepared to meet the demands.
"Saint Xavier was close to home, affordable and credible. I can't begin to tell you how much I have matured and learned, and I don't think I would have gotten this experience at any other institution. I know I am more than prepared for graduate school and medical school," said Busch.
Busch also truly enjoys the social aspect at Saint Xavier, finding that he's made many connections with faculty and students that will last him a lifetime. He is grateful for many of his professors but really enjoyed the research project he worked on with Julia Wiester, Ph.D.; the five math courses he's taken with Abdul-Majid Wazwaz, Ph.D; the microbiology for his research that he learned with David Elmendorf, Ph.D.; and the rigor of the courses he's taken with Arunas Dagys, Ph.D.
"Cody is an exceptional student who cares deeply about learning and genuinely possesses a boundless respect, optimism, integrity and compassion, strong character traits that will take him far in life. With his deep respect for all and great listening skills, Cody leaves a strong impact at Saint Xavier. He's distinguished himself by producing work that is above and beyond expectations. I know he will continue to make a great difference in the lives of others wherever he goes," said Wazwaz.
Busch hopes to begin work on a publication of his project on biofilms research and plans to continue a new project once he starts his thesis at Loyola. After that, medical school -- and after that, the world!
---