SXU Students Promptly Hired as Teachers After Studies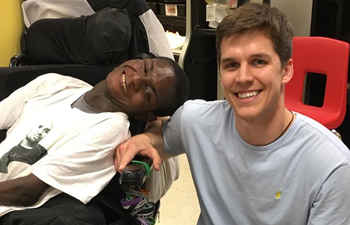 Graduate Patrick Fahey with one of his first students.
At the end of the fall 2020 semester, nine of 11 graduate students from Saint Xavier University's (SXU) Special Education program secured full-time teaching positions after student teaching. Six began teaching immediately, as their districts did not want to wait until after winter break. As Illinois continues to experience a teacher shortage that is especially acute in the area of special education, Saint Xavier's Education Department is meeting the demand by preparing teachers who are capable, knowledgeable, innovative and committed.
Students who are preparing to become teachers often find that there is much more to teaching than what they initially observe as students. As students at SXU, they learn that as teachers they'll need to consult standards and find out what students already know; learn the content of what students must learn; study research to find strategies for effective assessment and instruction; and develop relationships with and care about the welfare and progress of each and every student. The fall 2020 cohort of students was taught by Margaret (Meg) Carroll, Ed.D.
"Teaching is not just a career; it is a mission. Students in the teacher preparation program at SXU are trained to be detectives, learning as much as possible about students and planning and adjusting instruction based on the needs of the students while checking for progress," said Carroll.
Kevin Ilagan, a graduate who accepted a long-term substitute position as a resource special education teacher, finds that teaching as a career path has been a great blessing for him. He treats teaching like a craft, knowing that he's never completely finished learning and striving to be better than he was the day before. When asked how it felt to jump into an essential position in the middle of a pandemic, Ilagan was confident in his choice.
"I'm excited to be part of this generation of teachers that will be working through unchartered territories, exploring new strategies and mindsets, and testing the limits of research and technology. I believe we are all descendants of fighters and survivors. It's hardwired in our DNA to adapt and thrive in the harshest of situations. 'If not us, then who?' is a quote I'm reminded of as I answer the call," said Ilagan.
Graduate Patrick Fahey has started work as a special education teacher for Chicago Public Schools (CPS), where he teaches reading, math and writing to students with specific learning disabilities. Fahey works to incorporate SXU's mission into his teaching, especially when it comes to communicating effectively and fostering compassion.
"Teaching to me is all about helping young learners explore what they are curious about and trying to foster a love of learning in these students. Learning is a lifelong process and as a teacher, I have the opportunity to help students better understand their own learning habits and the areas of learning that interest them most," said Fahey.
Patricia Skermont-Pohrte, a graduate who was hired as a teacher intern, found her calling in a special education classroom. Skermont-Pohrte's teaching is based in compassion, and she uses critical thinking to devise the best teaching methods while promoting self-respect for students.
"I love the challenge of finding the best teaching strategy for teaching each student and witnessing the success of students who once felt frustrated or defeated. My time at SXU prepared me because our course content was based on real-world situations. Educational theory was nicely balanced with learning how to work in an educational setting while practicing scenarios, including those dealing with law, paperwork, parents and administration," said Skermont-Pohrte.
Graduate William Richards was hired as a special education teacher at a junior high school, where he teaches language arts and social studies. He and his colleagues work with different modes of technology to deliver content in assisting their students to meet their goals. Richards believes teaching is about inspiring, motivating and believing in students while supporting their dreams and providing them a loving environment that is engaging and fun.
"Teaching is much more than content area – it's about providing all of the tools necessary for our students to become the greatest versions of themselves as academics, professionals and people. I knew within five minutes of substitute-teaching a sixth-grade English class that teaching was for me," said Richards.
Carroll believes in each of her students and looks forward to watching them grow and fill the need for special educators, especially since many teaching positions have been unfilled since the school year began. She believes that finally getting a permanent teacher will provide stability and security for children with disabilities and knows her students will be the key to successful learning for those children. Carroll means just as much to her students as she means to them.
"Dr. Meg Carroll is the reason I chose Saint Xavier over other universities that offered an education program. From day one when we met to discuss the program and my options, I felt that she would be an amazing person to learn from. Every class with her was highlighted by personal insights she'd earned over her 40-plus years as an educator and every topic was infused with her seemingly limitless enthusiasm. I am dedicated to showing up for my students the way she showed up for us," said Ilagan.
"Dr. Carroll is my favorite professor because of her abundance of memorable stories and her insightful wisdom on all aspects of becoming a successful educator," said Fahey.
"Dr. Carroll is the most capable, caring, involved and knowledgeable professor that I have ever had-- and this is my second master's degree! She genuinely cares about her students and their future students. I truly feel that she wants me to be successful and happy in all aspects of my life. She treats students with respect and her real-life experience is valuable for learning," said Skermont-Pohrte.
"Dr. Carroll is a professor that embodies all of the qualities necessary to be able to provide an education that feels personalized. Dr. Carroll has a natural way of touching each individual learner through her passion, love and compassion," added Richards. "She will motivate you and bring out the absolute best in you by challenging you continuously. She is a mentor, leader, mind of knowledge, and everything I ever wanted in a professor or mentor. She is the type of teacher I aspire to be!"
As the new graduates begin their careers, they are not only playing a part in working toward a solution for Illinois' teacher shortage, but they are also selflessly diving into the role of an essential worker during a pandemic. SXU is incredibly proud of their integrity, compassion and commitment to providing a quality, specialized education to students in need of excellent teachers.
"Special educators, who have dispositions inclined toward service and hospitality, are primed to be effective teachers. They may find themselves in positions where they will need to advocate for their students and that can be uncomfortable for an employee," said Carroll. "Each will make decisions every day that will change the course of the lives of their students. I believe in [our graduates'] professionalism and skills and their ability to grow in the classroom as they begin careers in special education."
---