/
/
/
SXU Students Receive Scholarships from the Blue Island Community Healthcare Foundation
SXU Students Receive Scholarships from the Blue Island Community Healthcare Foundation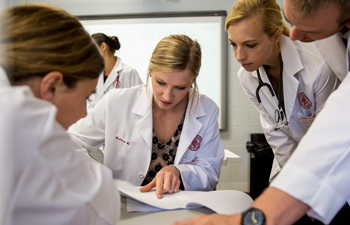 Four Saint Xavier University (SXU) students from the School of Nursing and Health Sciences (SONHS) have been awarded scholarships from the Blue Island Community Healthcare Foundation for the 2021-2022 academic year. Scholarships will be awarded to Diana Garbalena, Deysi Garcia, Lyannie Nieves and Liliana Zarate.
Diana Garbalena is a junior nursing student who recently started working at a local pediatric clinic. Garbalena plans to serve as a bedside nurse and gain valuable service experience before returning to school to complete her master's degree.
Deysi Garcia is in her final year of the undergraduate nursing program and is currently employed at Christ Hospital in Oak Lawn as a patient care assistant. Her goal is to work with children. Garcia is involved in SXU's Student Nurses Association (SNA) and the UNIDOS student leadership organization.
Lyannie Nieves plans to complete the undergraduate nursing program in the spring and pursue a master's degree in order to become a nurse practitioner. Nieves is a member of SXU's SNA and participates in UNIDOS.
Liliana Zarate is a junior nursing student who plans to serve minoritized communities upon graduation. Zarate volunteers as a teacher in her local parish and has served organizations focused on food insecurity. She is a member of UNIDOS.
The Blue Island Community Healthcare Foundation was founded in the 1970s as a support organization for St. Francis Hospital, which operated as a nonprofit in Blue Island for more than a century. The foundation now funds various charitable groups that serve the Blue Island area by providing health screenings, programs for children and adults with disabilities, behavioral health and addiction services, and nursing education.
"This scholarship makes a difference in the lives of our nursing students, who show up each day ready to learn and serve," said Gwendolyn George, DNP, APRN, FNP-BC, dean of SONHS. "I know our recipients will continue to make the foundation and the Saint Xavier community proud."
Students selected for scholarships must be junior or senior nursing students, reside in Blue Island or surrounding south side communities and maintain good academic standing. Saint Xavier receives funding for scholarships through a competitive application process each year.
"The Blue Island Community Healthcare Foundation has been a steadfast and vital partner in the provision of high-quality nursing education for Saint Xavier students," said SXU President Laurie M. Joyner, Ph.D. "We are grateful for the foundation's immense generosity and dedication to our talented future nurses."
---